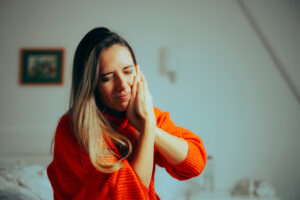 When you have a tooth that is cracked or chipped, or sudden pain or a lost tooth, then you need to see us right away. Emergency dentistry can help protect your smile from pain and major complications. In today's blog, your Cerritos, CA, dentist talks about our approach to emergency dental care.
When to Seek Treatment
A dental emergency refers to any discomfort or injury to your teeth, gums, or jaw that is serious, but not life threatening. Should an injury be potentially life threatening, you should call 911 or proceed to the nearest emergency room. Otherwise, let us know right away. Even if your injury occurs outside of normal business hours, call us so we can reach out for a time to see you and offer treatment before the risk of tooth decay or dental infection increases. As we will explain further on, you can take actions to ease discomfort until we can see you and offer treatment, such as taking an over-the-counter pain reliever or using a cold compress.
The Value of an Athletic Mouthguard
We recommend kids and adults alike who play full contact sports or martial arts/boxing wear an athletic mouthguard. While you can find boil-and-bite options at any sporting goods store or big box store, an option custom-made for your smile could provide a greater level of protection. Talk to our team today about creating a custom athletic mouthguard for you or a member of your family, to limit the risk of cracked, chipped, or knocked out teeth.
Cracked or Chipped Teeth
Did you know that you can take action following an injury to ease discomfort until we can see you? If you have a cracked or chipped tooth, then rinse with warm water and use a cold compress to control facial swelling, and cloth or gauze to stem any bleeding. If you can recover any pieces of your tooth, please do so and bring them to you. Otherwise, we can still offer repair for your smile. Repair could be done with a dental bonding procedure or the placement of a crown, restoring the tooth and preventing the onset of complications like tooth decay and dental infection.
Loose or Lost Fillings, Crowns, and Prosthetics
If a filling, crown, or prosthetic is loose, damaged, or missing, then you should let us know right away. Otherwise, the exposed portions of your teeth could be more vulnerable to issues like tooth decay or infection. In the meantime, avoid very hot or cold foods and drinks, or items high in sugar, as the exposed tooth is very sensitive. Our team will provide a replacement to protect your smile, and when possible, we will use lifelike materials to do so.
Unexplained Toothaches
If you have a sudden toothache, or an object caught between your teeth, then gently floss on either side of the tooth, and then rinse with warm water. If this fails to ease discomfort, then let us know right away. Don't use anything other than floss, as you could damage the teeth or gums. Unexplained pain could be linked to a cavity or an infection. You can take an over-the-counter pain reliever to ease discomfort until we can see you!
Knocked-Out Teeth
What if you knock a tooth out completely? When this happens don't panic! Instead, pick the tooth up by the crown, never touch the root, and gently rinse away dirt and foreign debris under running water. Don't remove any tissue though. Put the tooth into a sealed container of milk or salt water, and bring it with you to the dentist. You can also place it gently into the socket and bite down carefully to keep it in plain. Again, you can stem bleeding with cloth or gauze, and use a cold compress to prevent facial welling. Taking an over-the-counter pain reliever is okay too.
If you have any questions about how to handle a dental emergency, or if you or a member of your family has unexplained pain or damaged teeth, then please reach out to our team today to schedule a visit. We will see you quickly so we can provide repair and protect your overall oral health.
CONTACT US TO LEARN MORE ABOUT DENTAL EMERGENCIES
Our team wants to offer repair to protect your smile from major complications, which means anytime you're faced with a dental emergency, you should reach out to us right away to start the treatment process. Call your Cerritos, CA dentist's office at (562)584-4082 to find the best treatment option to restore your smile, often in as little as one to two visits using dental bonding or a custom-made dental crown.