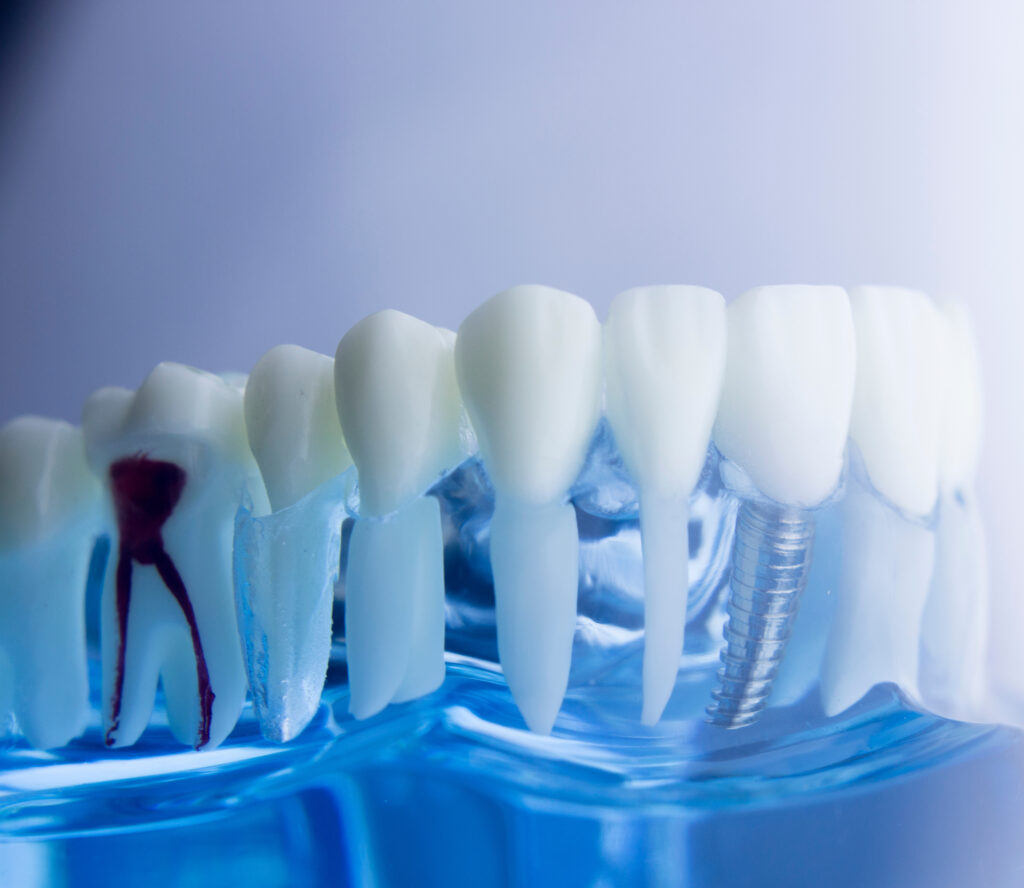 When you have suffered from a lost tooth, or if you have multiple missing teeth, then we can offer a replacement option that lasts far longer than traditional bridges or dentures. Dental implants look and act like natural teeth, and can offer a lifelike appearance. In today's blog, your Cerritos, CA, dentist talks about how we address missing teeth with implant dentistry.
The Dangers of Tooth Loss
Let's talk about tooth loss. You could lose a tooth to an injury, an untreated cavity or infection, or in most cases, the advanced stage of gum disease. When you have a gap due to tooth loss, this could increase the risk of misalignment, and adjust your bite balance, so you're more susceptible to a variety of oral health concerns, ranging from tooth decay and gum disease to TMJ disorder and bruxism (teeth grinding). You could be limited in your meal options, have trouble speaking clearly, and may simply feel embarrassed about your appearance. But with dental implants, our team can prevent these complications, and instill better oral health and a new level of self-confidence.
Examining and Preparing Your Smile
First, we want to take a close look at your smile to assess the cause and severity of your tooth loss. With digital x-rays and intraoral camera images, we can identify the positions of your teeth and assess the strength of your jawbone. We want to identify any issues that need treatment, such as gum disease, and also make sure you have enough jawbone to support dental implants. If not, then you may need bone grafting or a sinus lift to prepare your smile to receive one or more dental implants.
Inserting New Roots
The digital images we create will allow us to choose the best angle and position to insert your new roots, so they can remain strong and sturdy, and support a new smile for decades to come. We will guide them in place. The posts look like small screws and are made from a biocompatible titanium material, one that the body accepts as natural root structure. Once in place, osseointegration will begin. This process takes months, but ensures your new post act as new roots. While traditional bridges and dentures need replacement after 5 to 10 years, dental implants can stay in place for decades, possibly even a lifetime!
Dental Crowns
For an individual dental implant, we will complete the new tooth with a dental crown. The restoration will be custom-made to ensure a proper fit and a balanced bite. The materials we use, such as ceramic, can be shaded to blend with your smile seamlessly, while also providing a durable chewing surface. When your restoration is ready, we will add an abutment to the implant posts that extends above the gum line. We then attach the crown to it. You now have a new tooth that blends with your smile, looking and acting like a natural tooth.
Bridges and Dentures
What if you have a more severe case of tooth loss? If you have a gap of two to four teeth in a row, then we could use one or two dental implants to support a bridge. No need to remove structure from abutment teeth, as the freestanding posts will keep your bridge in place. Likewise, if you need full or partial dentures, then we could insert several posts per arch to secure the prosthetic. If you have weakened jawbone structure, we could talk about options like All-On-Four, which require less jaw structure to support a complete set of dentures. These prosthetics can last far longer than traditional ones, as the posts stimulate the growth of jaw structure to keep your smile intact. They can last for decades, never slip when you eat or drink, and never need to be removed for cleaning or soaking. You enjoy a new set of teeth that looks and functions like natural smiles, so you can enjoy your favorite foods and feel confident in social situations.
If you have any questions about how we use dental implants to provide secure and lifelike tooth replacement, or if you're ready to schedule your initial consultation and start your journey to a full smile, then contact our team today to learn more.
SPEAK WITH YOUR CERRITOS, CA DENTIST ABOUT TOOTH REPLACEMENT
Our team wants to help you enjoy a full smile with long-lasting tooth replacement. To learn more about implant dentistry and start your path to a complete and beautiful smile, then call your Cerritos, CA dentist's office at (562)584-4082!