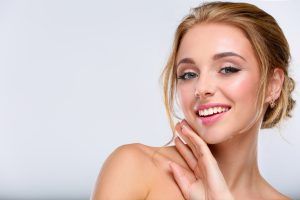 If there's something that you don't particularly like about your smile, cosmetic dentistry has a solution that can help. Almost everyone has something about the appearance of their teeth that stands out to them in a negative way. When you look at photographs of yourself, you may wish that your teeth were whiter. You may have a couple of teeth that don't look even or straight next to your other teeth. Maybe some of your teeth are disproportionate to the others. In all of these cases, cosmetic dentistry solutions can give you a smile that makes you feel proud and comfortable.
Cosmetic Dentistry Treatments Can be Quick and Non-Invasive
Choosing a cosmetic dentistry treatment for your teeth is a matter of addressing specific needs. Different cosmetic treatment can be used to effectively treat different problems. In almost every case, however, your cosmetic dentistry treatment can be quick and non-invasive. Many treatments can be completed during a single office visit. Additionally, many dentistry treatments don't require huge physical alterations to the structure of your teeth. Cosmetic dentistry can be simple and straightforward, while delivering big results.
Teeth Whitening Can Brighten Your Smile Efficiently
Teeth whitening is a treatment used to brighten the appearance of your smile. You've probably seen ads for teeth whitening treatments that you can buy from the drugstore, but those products don't typically create the results that whitening through your dentist can. Professional teeth whitening uses a bleaching gel to remove the pigment from your teeth. Pigment can build up in your enamel as a result of the food and drinks you consume. Applying a concentrated bleaching agent with a whitening tray for a short period of time each day can remove that pigment and improve your smile.
Porcelain Dental Veneers Create Uniformity
Whiter teeth aren't the only cosmetic need that patients have. Often times, one or two of your teeth stick out for the wrong reasons. Either they aren't quite straight, or they have grooves on their surfaces, or they're disproportionate. Porcelain dental veneers can tackle these issues with a quick treatment. Veneers are thin sheets of dental porcelain that are fabricated to be attached to the surfaces of your teeth. They can create a uniform appearance across your smile, and even whiten your smile. Veneers can typically be placed during a single office visit.
We Offer Cosmetic Services at Cerritos Dental Surgery
We want you to have a healthy set of teeth, but we also want you to feel good about those teeth. At Cerritos Dental Surgery, we offer dental surgery services, but we also offer cosmetic dentistry treatment to help your teeth look their best. Increase your confidence and comfort with a cosmetically appealing set of teeth. Schedule a cosmetic consultation with Cerritos Dental Surgery by contacting our Cerritos, CA office at 562-584-4082.