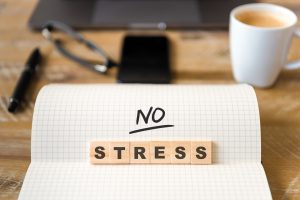 Of course, it's the first thing that happens when you realize something has changed with your oral health. You may not do it intentionally but you might immediately find that your muscles tense up and you feel yourself stressing. Our Cerritos, CA dental surgery team understands that when there's new territory involved (or you're faced with something with which you're not super knowledgeable just yet), it can feel emotionally uncomfortable. Since we are very aware of this and since we would love to know that instead, you feel confident and at ease, we're full of helpful reasons that you truly can say "see ya later!" to stress, as you focus on helping your oral health.
We're Always Here For You
Good news! We are absolutely always here for you, when you need us. This is in a more figurative way, of course, when you have questions. However, what we're really focusing on at the moment is the fact that you don't have to stress about unexpected problems that can occur. Worried that you could break a tooth, end up with a concern about your dental implants, or something else? Don't stress. Our practice provides emergency dental care, so you may reach us at a moment's notice and receive care you need right away, rather than feeling stuck without the attention your oral health needs!
We Can Help With Just About Anything
Are you feeling good about the fact that we can help you with dental surgery but you think to yourself: Can I receive other types of care, too? The answer is a resounding yes! We remind you that we can provide you with a comprehensive selection of dental services that may surprise you! Hoping for a nightguard for your bruxism? No problem! Wish you had access to cosmetic dental care? We're on it. Dealing with a lump and need oral pathology? Whatever it is you're dealing with for your smile, you can come to us.
We're All About Optimizing Comfort
Don't give it a second thought. Care with us is comfortable!
We're Happy To Talk With You
You don't have to feel as though you cannot communicate your thoughts, worries, or concerns with us. If you have questions about financing, ask them! If you are concerned about the dental surgery or other type of visit you have approaching, talk it over with us. When you have answers, the burden of worry is lifted and you can feel optimistic and excited about doing what it takes to care for smile!
Receive Stress-Free Dental Surgery 
Remember that visiting us for the dental surgery and other smile care services you need or want for your smile can be a very relaxing, wonderful experience! See us soon to learn more about how we may help you. To schedule an appointment or consultation with Dr. Hofkes, contact us today by calling 562-584-4082. We proudly welcome patients of all ages from Cerritos, CA and all surrounding communities.