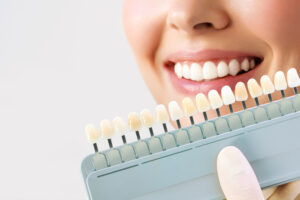 Do you have concerns with the appearance of your smile? If so, don't go through life hiding your teeth or feeling embarrassed. Instead, talk to our team about a solution. In today's blog, your Cerritos, CA, dentist's office talks about our approach to cosmetic dentistry, and the treatments we have to improve smile beauty.
Starting with a Cosmetic Consultation
First, let's schedule a consultation to take a look at your smile. We will talk with you about your smile and your hopes for improvement, and then we carefully examine your smile with digital x-rays and intraoral camera technology, so we can make a diagnosis with precision and accuracy. Once we understand the cause and severity of your esthetic concerns, we will create a personalized treatment plan to choose the best cosmetic dental treatments for your smile. Every smile is unique, so we want to tailor treatment to you specifically, offering lifelike results that also protect the balance and health of your smile too.
Our Ceramic Dental Crowns
In addition to reshaping malformed teeth, a ceramic crown can improve bite balance, chewing function, and other issues like cracks, chips, breakage, and other factors that could threaten the smile's stability. We can even treat advanced decay! Cosmetic dentistry includes crowns made specifically for your smile from a durable and lifelike ceramic, which we can shade to blend with the rest of your smile seamlessly. The placement process only takes two visits, and address an array of esthetic issues all at once.
Professional Teeth Whitening
Do you have stained teeth? If so, don't rely on store bought options that provide minor results that don't last very long. With professional teeth whitening, we have treatments that can target your discoloration and brighten your smile by up to eight shades in some cases! The results can then last for months to come, even longer if you practice good oral hygiene habits. Don't live with discoloration that makes you hide your smile. With cosmetic dentistry, we can provide brighter smiles and results that inspire confidence.
Replacing Teeth with a Dental Bridge
Cosmetic dentistry can also address missing teeth too! If you have between one and three missing teeth in a row, then you need a dental bridge. Otherwise, tooth loss is linked to issues speaking clearly, problems eating your favorite foods, and the risk of jaw joint concerns like TMJ disorder and bruxism. You could also develop misalignment as your teeth drift from position due to the exposed gap. Our team can numb the teeth on each side of the gap, known as abutment teeth, and then remove structure from them. We take detailed digital images of the teeth and use them to design your bridge. The prosthetic will contain new teeth with crowns on one or both ends. Made from materials like ceramic, this can be shaded to blend with your smile seamlessly. We then attach the crowns to the abutment teeth, securing your new teeth in place for about 10 to 15 years on average, before replacement is necessary. These match your smile so you can smile without hesitation!
Porcelain Veneers
Cosmetic dentistry also allows our team to conduct a smile makeover. With porcelain veneers, we can instantly transform the appearance of your smile in two visits. Veneers are very thin and placed onto the front of the teeth, instantly reshaping them and correcting a host of cosmetic concerns. For example, we can mask permanent teeth stains, lengthen worn down teeth, repair minor chips and cracks, and fill gaps between the teeth. Veneers can correct misshapen teeth and also be used to mask minor misalignment, so you have a straighter-looking smile right away. We first numb the teeth and remove a thin layer of enamel, and take detailed digital images and measurements. We create your custom veneers in a lab setting and when they're ready, we attach them to the front of your teeth. They can stay in place for years to come, staying bright and beautiful. With routine checkups and cleanings, we can monitor them and watch for issues that could threaten them or impact your restorations.
If you have any questions about our approach to cosmetic dentistry, or if you would like to schedule a consultation and undergo treatment, then contact our team today to learn more. We want to help you smile with confidence, and feel great when you're meeting someone new!
Ready for Cosmetic Dentistry?
We would like to help you enjoy a bright and beautiful smile, with long-lasting results, using cosmetic dentistry. For more information on our cosmetic treatment options, call your Cerritos, CA dentist's office at (562)584-4082.