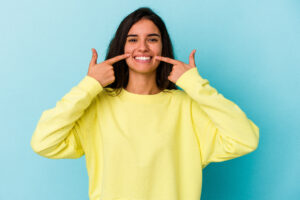 When you have issues with the appearance of your smile, such as stains, dental damage, or even misshapen or missing teeth, then you could benefit from cosmetic dentistry. In today's blog, your Cerritos, CA, dentist talks about how we can transform the beauty of your smile with cosmetic dentistry.
When You Need to Schedule a Visit
If you have issues with the appearance of your smile, then you should consider cosmetic dentistry. Our team can thoroughly examine your smile to understand the factors behind your cosmetic concerns, and to also create a treatment plan to address them. We also talk to you about your smile and the results you hope to see. Every smile is unique, which means everyone receives a custom treatment plan to tackle their esthetic issues, whether they have one imperfection or several.
Teeth Whitening
You can find a number of whitening products at the store. However, strips and toothpastes often provide minor results that don't last. With a professional approach, we can brighten your teeth by several shades, with results that can last for months to come. Cosmetic dentistry can brighten your smile by up to eight shades, so you can smile with confidence following treatment. We can also discuss better at-home oral hygiene habits to ensure your results can last longer!
Ceramic Crowns
When you have a tooth that is damaged, misshapen, or provides poor bite balance and chewing function, then you may need a crown. The restoration covers the tooth and helps improve overall bite balance in the process. We can even employ them to address severe decay or infection too. With cosmetic dentistry, we create our crowns from ceramic. This durable material is translucent like tooth enamel, but can be color matched to blend with your smile. The material can also handle daily bite forces and pressures with ease, providing a durable chewing surface. When you need a tooth treated or repaired, we can offer lifelike results! The placement process only takes one to two visits. We numb the tooth and remove structure from it, before taking detailed digital images and adjustments which we use to design and craft the finished product. We then attach the completed restoration with a powerful bonding agent.
Porcelain Veneers
Our team can also use cosmetic dentistry to provide a smile makeover with a single treatment option. Porcelain veneers are thin shells or porcelain that we attach to the front of your teeth. They cover the front and sides, instantly changing the color and shape of your teeth. Porcelain is durable and strong, but again we can shade it to blend with your smile. Each one is custom-made, based on impressions we take of the tooth after we remove a thin layer of enamel from it. In a lab setting, we then design and fabricate the custom veneer. Using the same bonding agent as we do with crowns, we attach the veneers to the front of the tooth.
With this restoration, our team can mask permanent teeth stains that resist whitening treatments, and close embarrassing gaps between the teeth. We correct misshapen teeth and lengthen worn down structure, and also repair minor chips and cracks. Placement can even correct the appearance of minor misalignment, so you can obtain straighter-looking teeth without the need for metal braces at all. For many, this alone is a smile makeover, but we can also combine them with other treatments. For example, we can whiten teeth beforehand so your veneers match your brightest possible smile.
Dental Bridges
What if you have lost a tooth, or up to there in a row? Cosmetic dentistry also addresses tooth loss, we can create a bridge that fills the gap and offers a lifelike appearance. The prosthetic is made from ceramic and contains new teeth with crowns on one or both ends. We attach the crowns to the abutment teeth, the ones on each side of the gap in your smile. The bridge is then held firmly in place and can last up to 15 years with proper care and attention. We color match them to blend with your smile so you can show off your complete smile without hesitation.
If you have any questions about cosmetic dentistry, or if you're ready to transform the overall appearance of your smile, then contact our team today to learn more. Everyone deserves a smile that makes them feel great!
SCHEDULE YOUR COSMETIC DENTISTRY APPOINTMENT TODAY
Our team wants to make sure you feel confident in your smile, and never hesitate to show off your pearly whites. Call your Cerritos, CA dentist's office at (562)584-4082 to find out what treatments are right for you!