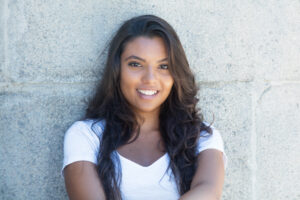 Is your smile as bright as you would like it to be? When years of staining begin to darken the shade of your teeth, you can begin to lose pride in your otherwise healthy smile. This process can become apparent overnight as recent photographs show a bright white appearance and cause you to question if you can improve the way they currently look. While over-the-counter products can seem convenient for treating discoloration, you may find they do not provide desirable results. This is why you should seek a professional teeth whitening solution when attempting to enhance the color of your smile.
At your Cerritos, CA dental practice, we provide cosmetic treatments that can make you eager to show off your grin. When teeth begin to turn yellow, a professional whitening session can restore your pride and prevent others from becoming distracted by discoloration in your smile. When it comes to lifting stains, we have you covered with a strong and safe bleaching product that returns the original look of your enamel.
When Dental Discoloration Affects Your Confidence
Yellow teeth and stains in your smile are a common cosmetic flaw that can hurt anyone's confidence in their appearance. When you find that the look of your enamel has begun to dull, you may lose the desire to interact with others or seek ways to hide your teeth when speaking. Even when you practice proper oral hygiene, you may find that your brush is ineffective at lifting marks left on your teeth from food and drink. While a store-bought treatment from your pharmacy can provide some help, these solutions are not customized to your particular discoloration problem and may fall short. By seeking a professional whitening solution from Cerritos Dental Surgery, we can provide a more serious treatment.
When Losing Enamel Causes Discoloration
Teeth whitening treatments that use bleaching gels are most effective for lifting stains from within the surface of your enamel itself, but sometimes discoloration is caused by the erosion of this outer layer. When your discoloration issues are intrinsic, porcelain veneers can cover your teeth to return the appearance of your lost enamel. This versatile cosmetic dental treatment allows you to dress other problem areas such as chips, cracks, or lost height in your teeth as well. The custom creation of your veneer set allows you to select the smile of your dreams!
Speak With Your Cerritos, CA, Dentist About Cosmetic Treating Your Tooth Discoloration
If your teeth are beginning to lose their shine, a professional whitening session can restore the shade of your enamel! If you want to learn more about this procedure, please call your Cerritos, CA, dentist at (562) 584-4082. We welcome patients of all ages from all surrounding communities, such as Lakewood, Long Beach, Buena Park, and more.