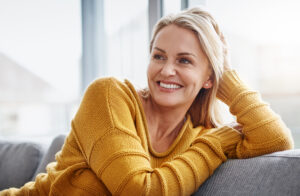 Are you looking for a simple way to improve your appearance? Cosmetic dentistry can enhance your smile in a few easy visits and remove imperfections that have gathered over the years. If you notice chips in your enamel or discoloration and staining, a treatment from your dentist could be just the answer you are looking for to regain confidence in your grin!
At your Cerritos, CA, dental practice, we are happy to offer multiple services that focus on the beauty of your smile. Treatments such as ceramic crowns, teeth whitening, and porcelain veneers can help improve your appearance and make you eager to show others.
Ceramic Crowns
At Cerritos Dental Surgery, we can return the look of a healthy tooth by placing a dental crown on a damaged tooth. Made from durable dental ceramic, this treatment matches the desired shape and shade of your natural tooth to restore your smile's appearance. Crowns are a wonderful treatment for teeth that become chipped or experience serious wear due to grinding. To care for your new cap, simply practice your same brushing and flossing routine each day. Your dentist will inspect its health at each of your general checkups to ensure its place in your smile!
Professional Teeth-Whitening
When concerns with the color of your teeth bring you down, a teeth-whitening treatment can help you regain your confidence by brightening your enamel. By applying a strong bleaching agent directly to your teeth, we can lift surface stains left behind by certain foods and drinks. This professional alternative to over-the-counter whitening products allows your dentist to customize your treatment to the specific degree you desire. Our expert touch helps you avoid damage to your gums or sensitive teeth caused by products left on for too long. A teeth whitening session is a great way to quickly improve your look directly before an upcoming social engagement!
Porcelain Veneers
Placing veneers allows you to address different sources of damage to your teeth in a single solution. Made from thin layers of custom-designed porcelain, each veneer applies over your tooth to conceal chips, cracks, stains, and blemishes. This treatment can address intrinsic problems with discoloration that do not respond well to teeth-whitening procedures. Because we customize the shape and size of your veneer, they can cover gaps between teeth or return desired height to worn-down structures. Enjoy the smile of your dreams with a new set of veneers!
Speak With Your Cerritos, CA, Dentist About Cosmetic Treatments For Your Smile
Cosmetic dentistry allows you to enhance your smile and boost your confidence like never before. Innovative treatments allow you to transform stained or chipped teeth into the flawless, natural-looking smile you desire! If you want to learn more about these procedures, please call your Cerritos, CA dentist at (562) 584-4082. We welcome patients of all ages from all surrounding communities, such as Lakewood, Long Beach, Buena Park, and more.