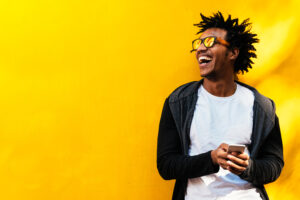 If you have concerns about the appearance of your teeth, cosmetic dentistry can offer promising results. While imperfections in your smile can affect your confidence when interacting with others, the right smile treatment can make you eager to show it off! Our practice focuses on improving the part of your appearance that is most noticeable when speaking. This means not worrying about embarrassing stains, chips, or cracks in your teeth when making an impression.
At your Cerritos, CA, dentist's office, we are pleased to provide cosmetic enhancements that cause excitement. With services such as teeth whitening and porcelain veneers, we can conceal problems with discoloration or physical damage that wear on your smile. You may be surprised at how striking your grin appears after a few simple visits to our office!
Professional Teeth Whitening
When you visit our office for a professional teeth whitening treatment, we can help you remove surface stains from your enamel to return a bright white smile. This non-invasive procedure applies a bleach-based gel to lift blemishes caused by common food and drink such as coffee, wine, or tea. Compared to an over-the-counter drugstore service, we can tailor your treatment to your taste by selecting the specific level of brightness you desire. Because we can whiten your teeth in a single appointment, this is a beautiful service for instantly improving your appearance before an important engagement.
Placing Porcelain Veneers
Veneers are a cosmetic treatment that can address multiple discrepancies with your teeth at once. Made from thin layers of porcelain, veneers bond to the front of your teeth to cover any unsightly chips or cracks in your enamel. Their custom design allows you to select the size and shape of each veneer to treat teeth that have lost height or spacing gaps in between. Because each shell looks like a natural tooth, your veneers will blend in seamlessly with the rest of your smile.
If you do not respond well to teeth whitening treatment, porcelain veneers can improve your issues with discoloration as well. Because whitener lifts stains and blemishes from enamel, veneers help treat yellow teeth that occur from the loss of your enamel. We will help you select the specific shade of your veneers to return the bright white look you are looking for.
Talk To Your Cerritos, CA, Dentist About Cosmetic Options To Enhance Your Smile
If you are looking for methods to improve the look of your smile, cosmetic dentistry can offer pleasing results. With a few visits to our practice, you can improve your look in no time! If you would like to learn more about these procedures, please call your Cerritos, CA dentist at (562) 584-4082. We welcome patients of all ages from all surrounding communities, such as Lakewood, Long Beach, Buena Park, and more.