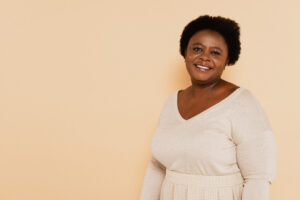 Are you happy with the current look of your smile? Cosmetic dentistry offers methods to enhance its natural beauty by addressing imperfections that give you pause when looking in the mirror. While not everyone is blessed with perfect teeth, cosmetic solutions can conceal stains, chips, cracks, or even issues with misalignment. This means that the ideal treatment can grant a big leap in confidence when showing off your grin!
At your Cerritos, CA, dental practice, we can work with you to plan procedures that best serve your particular desires. Treatments such as porcelain veneers, ceramic dental crowns, and professional teeth-whitening all seek to provide a beautiful, bright smile that will make you proud!
Porcelain Veneers
Made from thin layers of porcelain material, veneers bond to the front surface of your teeth to improve their appearance underneath. Their versatile design provides an ideal solution for teeth that are chipped, stained, or misshapen. Each individual shell mimics the appearance of natural teeth to provide a seamless and natural look.
Porcelain veneers are a great option for improving the color of your teeth. If you have issues with discoloration or staining, we will shade your porcelain to give them a bright, white appearance that lasts for years. Because we custom-design the size and shape of each veneer, this treatment can restore height to worn-down teeth and cover minor gaps between neighbors.
Ceramic Crowns
Ceramic dental crowns are an ideal solution for teeth that are severely damaged or decayed because they cover your problem tooth entirely above your gum line. Unlike a traditional metal crown, tooth-colored ceramic materials allow this solution to blend seamlessly with your natural teeth and complement your smile. A crown can improve the shape, size, and color of a tooth that has lost significant amounts of hard tissue and return the ability to withstand the full pressure of your bite. Because your new crown is durable and long-lasting, you can enjoy the benefits of a beautiful smile for many years to come.
Professional Teeth-Whitening
Whitening treatment is a popular noninvasive procedure that can remove surface stains from your enamel and improve the shade of your teeth. We provide a topical bleaching gel application that can lift blemishes caused by coffee, tea, wine, or other drinks. The brighter shade of your smile will offer a brighter, more youthful appearance without requiring a permanent alteration to the structure of your teeth.
Talk To Your Cerritos, CA, Dentist About Cosmetic Options To Enhance Your Smile
While everyday life can take a toll on the appearance of your smile, cosmetic dentistry offers simple solutions to provide serious improvements! In a handful of visits to our office, you can obtain the smile of your dreams. If you would like to learn more about these procedures, please call your Cerritos, CA dentist at (562) 584-4082! We proudly welcome patients of all ages from all surrounding communities, such as Lakewood, Long Beach, Buena Park, and more.