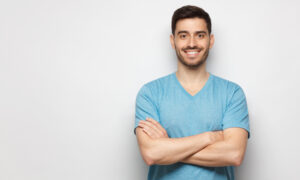 Whenever you experience an injury to a tooth, you should seek its repair right away to prevent further complications from developing. Whether from decay or physical trauma, damage to your teeth can break open your protective enamel layer and leave the inner material at risk for infection. You may also undergo severe pain as cracked or chipped teeth become sensitive when having a meal. Because of its negative effect on your appearance, a broken tooth can impact your enthusiasm to socialize as well.
To treat pain, prevent further injury, and return a beautiful smile, seek out the remarkable results of a dental crown. This restoration goes over the entirety of a damaged tooth to protect its insides and sustain the pressure of your bite. At your Cerritos, CA dentist's office, we can create a ceramic dental crown that is custom-made for your smile. Modern material selection allows us to match its shade to your natural teeth to address esthetic concerns while repairing a tooth's function.
Dental Injuries That Necessitate Repair
When you visit our office with a chipped, cracked, or broken tooth, we can place a dental crown to protect your tooth and repair its bite. For patients whose cavities have grown too large for a dental filling, this solution can also restore lost structure after tooth decay. When your tooth becomes infected and requires a root canal to remove the inflamed pulp, the therapy permanently alters the outside of your tooth and needs a cap.
To detect or prevent these situations before they become worse, remember to regularly attend dental checkups. Semiannual visitation allows us to provide less invasive treatment options when we detect injuries early. A tooth that needs a filling today could need a cap in a few months. Subsequently, a tooth that needs a cap could require a full extraction in year when left untreated. If you do lose an entire tooth, we can use a dental crown in conjunction with a dental implant to restore your smile.
Placing Your Dental Crown
To determine if a dental cap is the best fix for your tooth, we will perform a full evaluation of your injury. By taking specific measurements and imaging, we can send for a restoration that contours directly to your smile. By selecting ceramics for the cap's creation, its shade will match that of a natural tooth. At a follow-up visit, we will bond the treatment directly to your tooth and seal it off above your gumline. This returns your ability to enjoy a full bite without risking further injury.
Speak With Your Cerritos, CA Dentist Office About Placing A Dental Crown!
When your tooth is significantly injured, a dental crown can restore its bite and return the beauty of your smile. This solution covers cracks or chips in the surface of your tooth while protecting the inner material from infection. For more information and to schedule a visit, contact your Cerritos, CA dentist's office at 562-584-4082. We also proudly serve patients from the surrounding communities of Lakewood, Long Beach, and Buena Park.