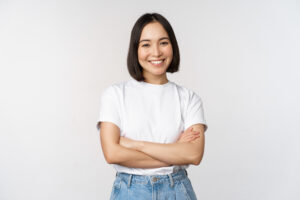 A healthy smile can provide a large boost to one's self confidence when you are proud of its appearance. Because it is often the focus of attention when speaking, any unsightly injuries to your tooth can wear down your enthusiasm about interacting with others. In addition to their effect on your personal appearance, injuries to the enamel of your tooth can also cause significant discomfort whenever you place pressure on them at mealtime. When your tooth is healthy, your bite functions without pain, but when it is injured, it may become sensitive and risk further injury. To treat this pain and return beauty to your smile, seek restoration with a dental crown. This solution covers a damaged tooth completely and protects it from the pressures of your bite. Your Cerritos, CA dentist can select its shade to match the pearly white appearance of your smile and improve your looks while restoring the function of your teeth.
Potential Causes Of Dental Injury
What are the sources of injury that necessitate restoration with a dental crown? Damage can occur unexpectedly from sudden physical trauma or simply normal wear and tear of everyday use. Cavities that form from tooth decay can impact the structure of your tooth so severely that a dental filling cannot restore the damage. Because these problems affect both your appearance and function of your bite, you should practice habits that reduce the likelihood of their occurrence. Strict oral hygiene can reduce cavity formation when you brush and floss each day to remove plaque. Choosing healthy foods that limit sugar intake can also reduce tooth decay. If you play contact sports, wearing a mouthguard can soften physical impact to your teeth. When preventive action is not enough to stop chips or cracks in your teeth, we can place a lifelike crown to restore your smile.
Treating Injuries With Dental Crowns
When you contact our office to address an injury to your tooth, we will perform a full examination to determine the proper restorative solution. When a dental crown is appropriate, we will take proper measurement of your injured structure for the custom design of your new cap. The use of ceramic materials allows us to select the shade of the prosthetic to match your natural teeth. This gives your smile a beautiful restored appearance while simultaneously protecting against future complications.
Talk To Your Cerritos, CA Dentist Office About Placing A Dental Crown!
Dental crowns improve satisfaction in the appearance of your smile while protecting injured teeth. This solution completely covers cracks or chips in your enamel while securing the underlying tooth in your mouth. For more information and to schedule a visit, contact our Cerritos, CA dentist's office at 562-584-4082. We also proudly serve patients from the surrounding communities of Lakewood, Long Beach, and Buena Park.