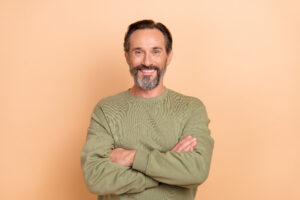 Whenever one of your teeth is severely damaged by physical injury or decay, you should seek restoration to avoid further complications with the health of your smile. Each time you sit down to enjoy a meal, your bite sustains a significant amount of pressure while processing your food. When a tooth is healthy, it withstands this function properly. When a tooth is chipped or broken and left untreated, your normal eating behavior can cause intense pain and lead to more loss of stable material. To repair the outside surface of your tooth and return its ability to properly bite, seek placement of a dental crown. This treatment covers the entirety of a damaged tooth to prevent it from breaking. Your Cerritos, CA dentist specializes in providing custom-made ceramic dental crowns that can match the shade of your natural teeth to provide desirable esthetic results while returning the function of your bite.
When Your Tooth Requires Mending
Your dentist can suggest placing a dental crown to address cracked, chipped, or broken teeth to protect the enamel on your tooth's surface for everyday use. Crowns are a useful treatment for repairing cavities that have grown too severe for treatment with a dental filling. In fact, when a tooth infection reaches the pulp of your root, a dentist will often place a crown to restore the tooth after receiving a root canal. Remember to regularly visit your dentist to detect any damage to your teeth before it becomes worse. Because we prefer to use the most conservative treatment possible, early detection of dental damage can often lead to less invasive treatments. For example, a tooth that could be treated by a crown today may require a full extraction next year, so speak to your dentist as soon as you suspect the need for repair.
Placing A Lifelike Dental Crown
To determine if a dental crown is an ideal solution to fix your tooth, your dentist will perform a full examination of your injury. We will take the necessary measurements to place a restoration that mimics the contouring of a natural tooth. Because we use a ceramic material, we will select the shade of the crown to match the rest of your smile and enhance your smile's appearance. At a second visit to our office, we will bond the crown to the entirety of your tooth and seal off any damage above the gumline. This allows the crown to take on the force of your bite. This ability is why dental crowns are also often used in conjunction with dental implants to replace stimulation to your jaw after total loss of a tooth.
Speak With Your Cerritos, CA Dentist Office About Placing A Dental Crown!
Dental crowns restore the surface of a damaged tooth while returning a healthy look to your smile. For more information and to schedule a visit, contact your Cerritos, CA dentist's office at 562-584-4082. We also proudly serve patients from the surrounding communities of Lakewood, Long Beach, and Buena Park.