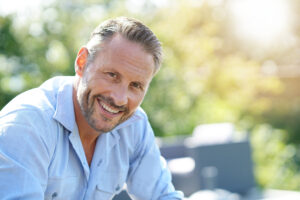 Each day when you sit down to enjoy a meal, your teeth undergo a great amount of force from the pressure of chewing your food. When it is healthy, the outside layer of enamel provides the strength necessary for this activity, but sometimes problems arise. When you have a tooth that needs repair for damage to its surface, a dental crown can provide protection while recreating the natural white look of robust enamel. In today's blog, your Cerritos, CA dentist discusses how this service and other restorations can enhance the function of your bite while improving the look of your smile!
The Sources Of Dental Damage
What are the reasons you may need to seek out restoration for a damaged tooth? Injuries can occur from everyday wear and tear, unexpected physical trauma, and cavities from tooth decay. These attacks on the function of your teeth can also have a serious effect on the look of your smile. Practice habits each day to avoid harm to your oral health. Brush your teeth twice and floss to remove the buildup of plaque from food particles and bacteria that contributes to tooth decay. Limiting the amount of sugar you consume can go a long way in preventing cavity formation as well. To give your enamel added strength and protection, include foods that are rich in calcium in your daily diet. Attend regular dental checkup and cleanings to remove plaque deposits and identify any decay before it becomes worse. When prevention is not enough, your dentist can provide lifelike restorations to address dental damage.
Dental Crowns Cover Damaged Teeth
The placement of a dental crown can properly protect a damaged tooth while returning its appearance to a healthy state. Your dentist will evaluate the source of your injury and determine if this restoration is appropriate. The dentist will take measurements to create a custom covering that contours to neighboring teeth in your smile. Created from a translucent material, the crown will match the appearance of the underlying structure and can be shaded to blend in properly. This solution for severe cavities, cracks, and chips can even assist in replacing a total lost tooth.
Our practice can place a dental implant directly into your jawbone that allows for the placement of a restoration above your gumline. By connecting to an abutment post on the implant, a dental crown can help return the function of a full set of teeth after experiencing loss.
Talk To Your Cerritos, CA Dentist Office About Receiving A Dental Crown!
A custom crown can improve the function of your teeth while enhancing the appearance of your smile at the same time. Our practice has extensive experience in placing restorations that restore your ability to bite. For more information and to schedule a visit, contact our Cerritos, CA dentist's office at 562-584-4082. We also proudly serve patients from the surrounding communities of Lakewood, Long Beach, and Buena Park.