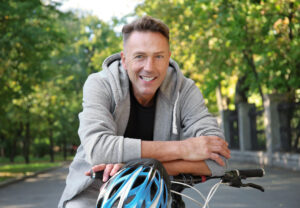 Whenever you experience a dental emergency, it is a situation that requires immediate care. Whether you crack, chip, or even knock out a tooth, quickly responding to your dental emergency can increase your odds of saving your natural structure while curing your pain. Do not put off seeking care because injuries that may seem minor can lead to severe damage when left untreated. At your Cerritos, CA dentist's office, we are ready to respond to your situation, evaluate, and treat threats to your oral health. In addition to treating your pain, we can plan a restoration to restore the function and appearance of your injured tooth and return your confidence in your smile!
When To Seek Emergency Dental Care
For any injury that you suspect is life threatening, you should first call 911 or head directly to your local emergency room. Whenever you crack or chip a tooth, lose a dental crown or filling, get something stuck, have an ache that will not go away, or have a tooth knocked out completely, you should call us as soon as possible. No matter the time of day, we would like to schedule an emergency dentist appointment to ease your discomfort right away.
Damage To Your Tooth
When your tooth is cracked or broken, rinse it to clean and place a cold washcloth to control any bleeding. When there are separated pieces of tooth , gather them to take to your visit. We will repair your tooth whether or not you have the entire structure, but would like to restore as much natural material as possible. Consider taking over-the-counter medication for pain until you attend your appointment.
Knocked-Out Tooth
When your tooth is knocked-out, time is of the essence. Gather it by the crown and gently rinse it to remove any dirt or debris. Never touch the roots as this may cause permanent damage. To protect the enamel, place the structure into a saltwater bath or container of milk for safe transport. Then address any bleeding and take a pain pill as needed until we see you.
Replacing Lost Restorations
If you notice that one of your dental crowns or other restoration is lost, it is important to seek care right away. When you lose a restoration, the inside of your tooth is exposed to bacteria that leads to decay and infection and it can feel very sensitive. At your emergency visit, we will secure the opening in your tooth and plan for the placement of a new treatment.
Talk To Your Cerritos, CA Dental Practice About Emergency Dental Services
Experiencing a dental emergency can be painful and difficult to endure. Our office is standing by to swiftly respond to your situation and ease your discomfort. If you would like to find out more about how we can help you in these situations, please call Cerritos Dental Surgery in Cerritos, CA at (562)584-4082!