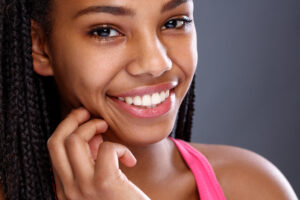 When multiple cosmetic imperfections change the shape and color of your teeth, speak with your dentist about available solutions to enhance your smile. The placement of porcelain veneers offer a natural look that can return the beauty of your smile after years of wear of tear. These thin shells of porcelain can correct a variety of flaws in as little as two visits to our office. If you are looking to improve your appearance, your Cerritos, CA dentist's practice can determine if this solution will address your esthetic concerns.
Seeking Treatment For Dental Imperfections
Have you ever felt any embarrassment at the appearance of your teeth that makes you hesitant to show them to others? If you have concerns with their shape and color, then our service can be of great help. By placing porcelain veneers, we can address different esthetic issues all at the same time. To start, call our office and schedule a visit to discuss your treatment and receive an evaluation. Our years of experience allow us to choose the most appropriate treatment option for your specific condition.
The Design Phase
Because each of your teeth is uniquely shaped to your mouth, each porcelain veneer we place is custom-fitted for direct attachment. In addition to improving the look of your smile, this ensures you maintain a proper and balanced bite. In fact, veneers can be a great treatment for minor issues with misalignment. To begin, we will take an impression of your teeth that will be used to design that custom fit. In concert with a skilled ceramicist, a restoration will be fabricated that matches your individual teeth. At a follow-up visit, we will attach them to the front of your teeth with a permanent bonding solution after shaving a small amount of structure for placement.
The Benefits Of Your Brand New Smile
Your new restoration will instantly transform your smile to conceal any previous unsightly concerns! The length of teeth that have been worn down from years of bruxism can be gently extended. Any issues with discoloration can be addressed as we select the shade of the porcelain material to your desires. In fact, veneers are a great alternative for intrinsic issues with your teeth not helped by gel-based teeth whitening solutions. Any minor chips or cracks in your enamel will simply sit behind your new treatment. You may be shocked at how much improvement you receive in just a few visits!
Speak With Your Cerritos, CA Dentist About Placing Porcelain Veneers Today!
At the offices of Shawn Hofkes, DDS, we are dedicated to helping you achieve the smile you desire. To schedule a consultation and improve your dental appearance, call your Cerritos, CA dental office at 562-584-4082. We also welcome patients of all ages from Cerritos and all surrounding areas such as Lakewood, Long Beach, Buena Park.