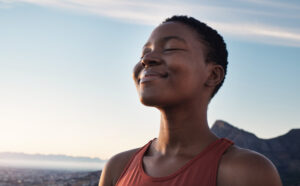 Do you ever feel nervous about attending appointments at the dentist's office? You may often receive a more conservative treatment solution the sooner you address a functional or cosmetic issue with your teeth, but dental anxiety can result in delaying or outright avoiding treatment altogether. Some patients may be able to attend routine cleanings and examinations, but avoid more involved procedures to support their oral health. These feelings of distress can cause existing problems to become worse than they must. No matter the cause and extent of your apprehension, your Cerritos, CA dentist's office knows that the ability to relax during dental treatment is key to seeking timely treatment. Our practice offers a variety of solutions in the form of sedation dentistry to help you calm your nerves from routine cleanings to more advanced forms of oral surgery. Your power to feel comfortable in our office can help ensure we maintain the health of your smile!
When Dental Anxiety Prevents Seeking Care
You should never feel ashamed when feelings of stress or fear cause you to avoid seeking care for a dental problem, but please feel free to talk to your dentist about solutions to make you feel comfortable during treatment time. Some people have never received a dental procedure outside of a regular treatment and may feel upset at the thought of filling a cavity or placing a dental crown. Delaying treatment for problems such as tooth decay can lead to the severity of the issue compounding and requiring more extensive surgical work to be performed than if addressed earlier. Gum disease, for example, can lead to total loss of teeth when not treated, but can be completely reversed when caught in its first stage. This means that sedation dentistry can help you feel at ease during a procedure and protect your oral health from needlessly experiencing the damage of seeking care.
Your Dental Sedation Options
Different levels of sedation are available to treat various forms of nervousness when visiting our practice. For instance, nitrous oxide can help settle your nerves during a dental cleaning while allowing you to remain conscious. Also known as "laughing gas", nitrous oxide will wear off following your procedure and allow you to continue with your day. We also have access to treatment in the form of calming pills or intravenous sedation to address deeper levels of anxiety. We will work closely with you to determine your level of anxiety and select the appropriate solution.
Speak With Your Cerritos, CA Dentist About Treating Dental Anxiety:
Do not let uncomfortable feelings hold you back from receiving the oral care you deserve. Sedation dentistry allows you to remain calm and secure when receiving a dental procedure. To schedule learn more about this service and schedule a visit, call our Cerritos, CA dentist's office at 562-584-4082. We also welcome patients of all ages from all surrounding communities, such as Lakewood, Long Beach, Buena Park, and more!