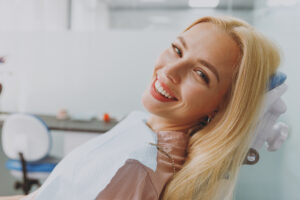 Your dentist provides multiple services to address functional and cosmetic concerns with your oral health. Sometimes the level of care required for a procedure is more involved and can cause anxiety in certain patients. The anticipation of these feelings may even cause them to delay treatment which can compound existing smile problems. Fortunately, for those in need, we offer a variety of dental sedation services that help patients relax and feel comfortable during a procedure. If you are someone who would benefit from anxiety relief, your Cerritos, CA dentist's office can help. Sedation dentistry is a trusted method to put you at ease during a routine teeth cleaning or other oral surgery. It is important to us to help you remain relaxed for your visit so that we can ensure you receive proper care on time.
Uncomfortable Feelings About Dental Treatment Can Impact Your Care
If you have never received dental care beyond the scope of a routine cleaning and examination, the thought of restorative or cosmetic procedures can be somewhat daunting. Patients who worry about what happens in the dentist's chair may delay scheduling services that they need. For certain oral problems, receiving care swiftly is vital to preserving the health of your mouth. For this reason, our practice offers multiple services to help you deal with uncomfortable feelings. Before performing any procedure, we provide detailed descriptions of how your treatment operates. Our staff creates a welcoming environment where we encourage you to ask any questions you have about upcoming dental work. Finally, we can provide the use of different sedatives to aid you in feeling relaxation at treatment time. Sedation dentistry allows you to remain conscious during your procedure, and we can provide stronger options for those with more significant feelings of unease. Do not let anxiety prevent you from seeking oral care and protecting your smile!
Multiple Levels Of Care For Safe Dental Sedation
There are different sedation options available to address varying degrees of unease when receiving dental care. Nitrous oxide, for example, will wear off immediately following your procedure. Certain patients may require the use of oral sedation which can be taken in the form of a calming pill. This method is more moderate and will require a friend or family member to take you home after your visit. Lastly, we offer intravenous sedation for the most serious cases of anxiety. Whatever the appropriate method, we seek to provide as comfortable of an experience as we can while addressing your important dental care needs.
Talk To Your Cerritos, CA Dentist About Sedation Treatment:
Feelings of unease should not hold you back from receiving timely treatment for your oral health. Sedation dentistry allows you to remain calm and relaxed while undergoing your dental procedure. To schedule a visit or learn more about this service, call your Cerritos, CA dentist's office at 562-584-4082. We welcome patients of all ages from all surrounding communities, such as Lakewood, Long Beach, Buena Park, and more!