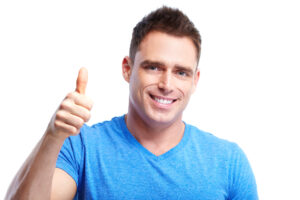 If dental work is going to make a significant difference to the way you look, it must require significant time and effort…right? By looking into treatment options for cosmetic flaws, you can find that the right service can require less time and more conservative changes than you anticipated. This means that cosmetic dentistry can prove effective while still being surprisingly easy to enjoy! At our Cerritos, CA dental practice, we provide services for a range of concerns. For those who want to take on esthetic dental flaws, we can offer care that minimizes alterations to tooth structure while still delivering noteworthy improvements.
Are You Happy With Your Smile?
While it can be a relief to know that your smile is free of active oral health concerns, it can be frustrating to see problems with your appearance that you would like to hide or change. Hiding can mean keeping your smile covered, and it can even call for you to modify the way you speak and laugh! Fortunately, the right approach to cosmetic dentistry can offer welcome results even while it minimizes changes to your tooth structure. Our practice can help you understand what options are available, and how the right treatment can improve how you look.
Using Veneers To Improve Your Smile
Problems with teeth that are misshapen, damaged, discolored, or otherwise flawed can hurt your overall confidence. Fortunately, these are fixable issues. With porcelain veneers, we can actually take on all of these different worries. In doing so, we can hide problems that have left you embarrassed by your smile while preserving much of your tooth structure. This work is fit into just two appointments—your first visit is when preparatory work takes place, while your second will see you receive your veneers. The preparatory work we provide includes careful measurements as well as conservative changes to tooth structure to make space for your restorations.
What Else Can Be Done To Address Dental Flaws?
Not everyone interested in cosmetic dental work needs to focus on changes to tooth structure. If you are bothered by the accumulation of staining particles that have dulled your enamel, you can look into professional teeth whitening treatment. If you have problems with damaged or misshapen teeth that impact your bite function and health, we can recommend that you have ceramic crowns placed.
Talk To Your Cerritos, CA Dentist About Improving Your Smile!
Through surprisingly conservative care, we can make noteworthy changes to the way you look when you smile and speak! If you would like to learn more about how this is possible, or if you have any concerns about your oral health that we can address, please call Cerritos Dental Surgery in Cerritos, CA at (562)584-4082!