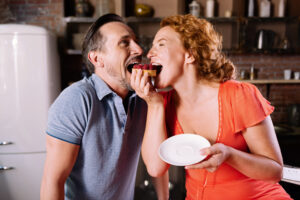 Our natural teeth give us a functional chewing surface, and so one of the most common questions about replacement centers around the connection to the jaw. It seems nearly everyone has a memory of a loved one or respected elder with a failing denture. Patients can put off a necessary extraction because they are worried about what comes next.
The most technologically-advanced method of replacement is also the most secure. Dental implants use threaded titanium posts to strongly bind your new prosthetic to your natural biological material. Through an amazing process known as osseointegration, our jaw bone grows tightly around the post. After recovery, your new implant can help you regain trust and confidence in your smile. Today, your Cerritos, CA dentist shows you how you can restore your bite with a dental implant!
Even One Tooth Can Alter Your Smile
You might think that you can avoid a replacement. For instance, the location may not be noticeable to others when you smile or speak. But the loss of a tooth can lead to serious complications with the appearance and functionality of your bite. Without an active tooth where it should be, the body begins to reabsorb some of the resources at the site. This can mean a loss of bone matter, so take it seriously!
When there is damage to an area of the mouth, other parts can experience more wear taking up the additional strain. This means that there is a higher likelihood of your remaining teeth suffering disproportionate erosion. Multiple issues can arise from this situation including serious bacterial infection.
Could A Dental Implant Help?
One of the most effective ways to combat these issues is through a dental implant procedure. By replacing your damaged natural tooth with a gorgeous new post and porcelain prosthetic, we can give the immune system a reason to grow and protect. From a single location to a full mouth of implant-supported dentures, keeping your jaw strong and intact is achievable!
If your dentist has suggested an extraction procedure, it doesn't have to feel like an overwhelming negative. While we love to keep our natural smile intact and healthy, sometimes removing a problem tooth can do more to improve your oral health. An implant procedure can help to reinvigorate the area, both above and below the gumline.
Schedule A Dental Implant Consultation In Cerritos, CA
Let's work to make your extraction into a positive. Schedule an appointment or consultation with Dr. Hofkes, contact us today in Cerritos, CA by calling 562-584-4082. A new dental implant can give you renewed strength and vigor to take on the day!