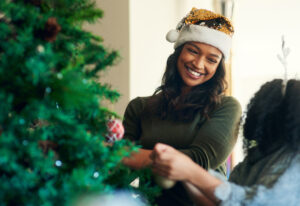 This time of year, we focus on others. It is a beautiful season that gives us the opportunity to show our loved ones how much they mean to us. But in that, we may sometimes let ourselves take a step back as a priority. But now may be the perfect time for you to invest in your smile's future! No matter what your next step is in your oral health path, a holiday refresh can help you to look and feel your best.
So before you meet your friends and family for your holiday gatherings, stop in for a smile consultation. We can set distinct and attainable goals for the future of your oral health, and then plan your pathway to a beautiful new cosmetic improvement. Today, your Cerritos, CA dentist explains some fantastic ways to treat yourself while you're in the giving mood. We're here for you in the most beautiful smile possible, while strengthening your health!
A Stunning Refinement
Porcelain veneers are one of the most popular cosmetic dentistry procedures for a reason. These ceramic caps provide a gorgeous enamel enhancement, and are simple to maintain for decades to come. This process can repair broken or chipped teeth, and are commonly used in restoration. But their ability to improve your appearance is unparalleled!
This process actually got its start here in Southern California in the 1920s. Through the creativity of a Hollywood dentist, these have evolved into a procedure that is popular with anyone with a pulic-facing persona. From actors and news anchors to real estate agents, a new set of porcelain veneers may help you to bring the best first impression possible.
A Beautiful Replacement
If you have concerns that affect the structural health of the tooth, then veneers may not be a suitable fit for your smile. Instead, your dentist may suggest the possibility of a dental implant. This process includes the placement of a threaded titanium post within the bone of the jaw. A new prosthetic tooth then sits atop this sturdy base and can be used as a beautiful, functional new replacement.
The unique properties of titanium allow for it to grow together with our bone. Instead of fighting this metal as a foreign object within the body, it is accepted due to its specific chemistry. These posts can be used for any number of possible prosthetics, even up to a full mouth denture solution!
ABOUT YOUR CERRITOS, CA, ORAL SURGEON:
Dr. Shawn Hofkes and the staff at Cerritos Dental Surgery are highly qualified to address complex issues, including those that require oral surgery to correct. To schedule an appointment or consultation with Dr. Hofkes, contact us today by calling 562-584-4082. We proudly welcome patients of all ages from Cerritos, CA, and all surrounding communities, such as Lakewood, Long Beach, Buena Park, and more.