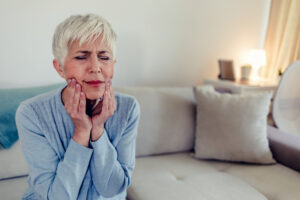 It seems like a fairly obvious statement to say that oral pain is one of the main reasons as to why someone would seek help at the dentist. Discomfort is one of the most effective ways at getting people into action. And with pain in the mouth, the situation rarely improves on its own. If it does, it could mean the death of the nerves, rather than actual healing.
There are many different things that could be causing your toothache. Even more potential problems could arise with the other forms of tissue within your mouth, such as your gums or your bone matter, as well. For the reason of identifying the issue alone, a scheduled checkup and examination may help you gather more information. Today, your Cerritos, CA dentist shows some of the most common causes of tooth pain and sensitivity, and what we can do to help!
Don't Let It Wait
With many forms of mouth pain, the key is in the time in which it takes you to seek treatment. Many forms of concerns can progressively become more dangerous over time. The earlier you confront your issue head-on, it typically becomes less intrusive of a solution. Dentistry can fit into your schedule much easier when it is a scheduled concern. Rather than relying on restructuring your calendar to fit emergency surgery, we can best plan the maneuver.
Our instinct is to hide our pain, so that we do not show weakness. But these feelings are specific signals within our brain that our body is at risk of harm. By ignoring these signs, you are allowing for the further destruction of your smile. So don't wait, give us a call!
When Bacteria Set In
One of the most common causes of discomfort in the mouth is through the infection of a tooth. This can lead to excruciating aches and it needs to be treaded as soon as possible. This happens for a few different reasons.
When we develop periodontal disease, our gums recede, pulling away from their proper location. This can expose the root underneath, leaving vital structures vulnerable. Enamel damage from decay or wear can also expose the interior portions of your teeth. If you struggle with grinding, it might be beneficial to discuss the use of a custom-fitted mouthguard while you sleep.
The most likely solution for this instance is through the use of a root canal surgery. This procedure centers around a pulpectomy, where the "living" inside of your tooth is removed by a dentist. They then seal the connections to the jaw with a sealant. This is highly effective at relieving discomfort!
ABOUT YOUR CERRITOS, CA, ORAL SURGEON:
Dr. Shawn Hofkes and the staff at Cerritos Dental Surgery are highly qualified to address complex issues, including those that require oral surgery to correct. To schedule an appointment or consultation with Dr. Hofkes, contact us today by calling 562-584-4082. We proudly welcome patients of all ages from Cerritos, CA, and all surrounding communities, such as Lakewood, Long Beach, Buena Park, and more.