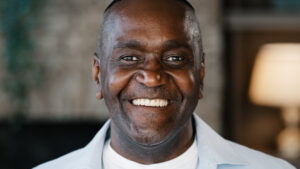 When people are preparing for dental implant surgery, they may have lingering questions about how the recovery process should go. Or if they are in the process of making that decision, there may be hesitancy because the patient feels unsure of how to care for these new prosthetics.
It is easy to feel intimidated at a dentist's office when discussing these matters. Patients feel they are in front of an expert, and they don't want to appear foolish by asking questions. Or in a lot of instances, the question does not become an issue until you are at home. New technology has improved our ability to interact with each other. Telemedicine has been a field of outreach that has been able to remove some of the barriers that stop people from seeking care.
Today, your Cerritos, CA dentist explains some common concerns with recent dental implants. And always, if you have a problem or a question, reach out to a trained oral health professional. We are here to help!
How Do They Work?
The first thing we should discuss is the process in which implants operate. Your surgeon will place a titanium post within the bone of your jaw. This metal has a unique property that allows it to connect to our body without an immune system response. This process, known as osseointegration, is a remarkable situation in which we actively protect this outside material rather than attacking it. This is why the posts can stay and maintain their strength.
But these need time to heal appropriately once your dentist places them. Always follow the guidelines given to you for your specific procedure. And it is always better to be too communicative with your healthcare providers, rather than not enough. Information is a weapon in fighting infection or the possibility of implant failure.
Take It Slow
While you are healing from this procedure, you may feel excited to have a new tooth! This is understandable, as you are now looking great, and feeling better. But you shouldn't get too far, too fast. This surgery requires recovery, and being too hasty can lead to longer concerns.
Be sure that you are using a soft nylon-tipped brush during this time. Overly aggressive brushing can push or drag the new prosthetic while it is still healing. You probably need a replacement anyway, so take comfort in a new brush.
In general, you will want to take it easy on your mouth. So not only the tools that we use should be changed, but the products such as your toothpastes and oral rinses, as well. These can be very harsh, so if you have doubts about the strain, it might be best to change to something more soothing.
And be sure to follow the diet guidelines given to you. Sticky foods of any sort can pull at the new post site, and before you even understand your predicament, you have hurt your new implant. As always, smoking and alcohol use can be seriously damaging as well!
ABOUT YOUR CERRITOS, CA, ORAL SURGEON:
Dr. Shawn Hofkes and the staff at Cerritos Dental Surgery are highly qualified to address complex issues, including those that require oral surgery to correct. To schedule an appointment or consultation with Dr. Hofkes, contact us today by calling 562-584-4082. We proudly welcome patients of all ages from Cerritos, CA, and all surrounding communities, such as Lakewood, Long Beach, Buena Park, and more.