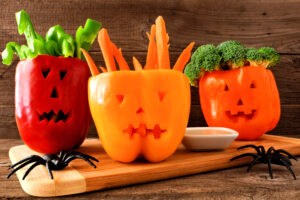 When this time of year comes around, parents across the world know the pandemonium that is coming. Our children are excited about the season and dressing up like their favorite characters. But most of all, comes piles and piles of candy. For parents looking to limit the intake of a high amount of sugar and processed foods, finding an avenue for healthy snacks can be a real struggle!
That's why today, your Cerritos, CA dentist talks to you a bit about possible options that can keep the kids satisfied. At the same time, ways to make sure that their nutrition does not suffer because of Halloween!
Does It Matter?
For some people they might see the fall season as an opportunity to ease back on the dietary restrictions for their kids. While you might not want to seem like the bad guy, you put so much time and effort as a family for the rest of the year. It would be a shame to set those goals and habits back by being permissive.
This is why finding tasty, nutritious snacks is imperative to weathering your Autumn. It may seem difficult, but each child has certain healthy foods that they enjoy. Use these as a guideline to develop an easy nutrition plan that can allow for wiggle room in the time between snacks.
What Do They Like?
One of the biggest missteps a parent can make in purchasing snacks for their child is to purchase based on adult tastes, without taking the opinion of the little ones into account. This can not only reinforce poor eating habits, but it can turn them off of "nutritious" eating, as they assume that everything with that designation must be terrible.
Of course, we as adults know that that is not true. But when the frame of reference is that of a child, they honestly don't know any better. So it is important to take a little bit of time to spend giving them the ability to choose what they want to try.
This can sometimes be difficult for parents, as it can mean buying things that do not get eaten. But if you are purchasing for yourself, you can expect that your decisions will not meet up with theirs. So in the end, you may save time and money by letting things happen a little bit more naturally. At the end of the day, "healthy" can seem like a delineation of things that are not tasty more than anything.
So let them choose and have responsibility in their decisions!
ABOUT YOUR CERRITOS, CA, ORAL SURGEON:
Dr. Shawn Hofkes and the staff at Cerritos Dental Surgery are highly qualified to address complex issues, including those that require oral surgery to correct. To schedule an appointment or consultation with Dr. Hofkes, contact us today by calling 562-584-4082. We proudly welcome patients of all ages from Cerritos, CA, and all surrounding communities, such as Lakewood, Long Beach, Buena Park, and more.