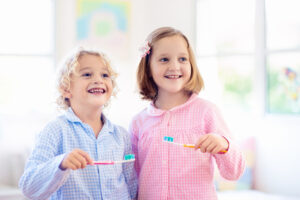 All parents know the struggle that can come alongside trying to coax an unenthused child to take care of their oral health at night. No matter what the emotion, it seems to overwhelm the desire to brush. With their imaginations, absolutely anything can be more exciting than taking care of their teeth.
For that reason, it is important for you to find ways that make nightly oral health care to become a little less of a chore. With a little time, you can develop a process that works well for both you and your little one. Hopefully you will be able to make this part of the day just a little brighter, and if you do, you will be rewarded for your effort!
Today, your Cerritos, CA dentist gives you some tips on ways that we have seen to be successful in cementing a solid oral health foundation for your family. These can also make the time go by quicker for you, as well, and we can all use new tools to keep our mouths happy and healthy!
Know Your Child
One of the most important things you can do overall as a parent is to be open and listen to your kids. Knowing their temperament and interests can help you to keep them engaged with situations that may not easily feel rewarding. And always be sure that they are recognized for their efforts, as mouth maintenance does not always come easy to our young ones.
If they are competitive, see if there is a way to introduce a level of gamesmanship to the routine. This way, there is now an inherent level of excitement that comes with a formerly dull chore. Or if they love hearing stories before bed, you might be able to start them a little earlier. This way, they not only get additional entertainment, you can maximize this bonding experience with them.
Let Them Express Themselves
Kids always love the opportunity to express themselves, and this is a way that they can take ownership of their own health. If you allow them to pick out the type of toothbrush or toothpaste to try, they may be more accepting of the experience. This also helps reinforce their understanding of personal responsibility. Their toothbrush is their duty, to maintain and to use, so if they enjoy this aspect, it can be very beneficial to them.
Plus that's another way of introducing some fun and excitement to the mix. Even for adults, brushing doesn't have to be a silent, boring affair. Many songs are around the two-minute mark, and they can be used as a guideline for home oral health care. Allow your children to choose the song, and they wil be more drawn toward sticking through the process.
ABOUT YOUR CERRITOS, CA, ORAL SURGEON:
Dr. Shawn Hofkes and the staff at Cerritos Dental Surgery are highly qualified to address complex issues, including those that require oral surgery to correct. To schedule an appointment or consultation with Dr. Hofkes, contact us today by calling 562-584-4082. We proudly welcome patients of all ages from Cerritos, CA, and all surrounding communities, such as Lakewood, Long Beach, Buena Park, and more.