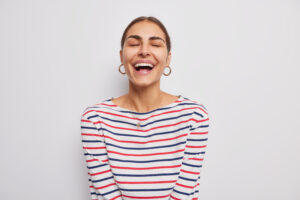 For nearly all of us, maintaining a pearly white smile can often be difficult. And as these missteps pile on top of each other over the years, tooth discoloration can become more and more apparent.
Today, your Cerritos, CA dentist writes on some common causes of a darkened smile, as well as possible remedies available to you that are safe, effective, and easy!
Time Leaves Its History
From the moment you grow your adult teeth, the maintenance of your smile is a life-long endeavor. But many things that we come into contact with can leave stains on our enamel. And removing these stains can take more effort and time than creating new ones, so the problem persists. If anything, it will progress.
So, of course, we have to look at ways that we can limit the contact of these foods and beverages when possible. Some common items include red wine and coffee. If you are a fan of these, make sure that you take particular care of your mouth, and watch for changes in coloration.
Smoking, beyond its numerous other health problems, is also a leading cause of discoloration. Please quit if at all possible, and the earlier, the better. Find a program that works for you and stick with it! It's worth it.
Health Causes
Issues affecting other parts of your overall health can play a part in a changing smile. Many medications, including those associated with cancer and HIV/AIDS treatment, can pose difficulties. Make sure that you are being open and honest with your doctors as well as your dentist, so that they are all aware of what you have going on. A comprehensive health solution means interstecting as many areas of the body as we can.
An Effective And Effortless Option
For those people who are struggling with the quality of their smile, a same-day whitening procedure may be a very helpful solution. Patients are often amazed at how much the benefit, as they thought they required much more dental work than they do.
We utilize a topical gel, coating the surface of the teeth. This includes a soft bleaching agent which gently lifts stains, rather than harshly blasting your smile. Then a UV light is shown onto the coated surface, further removing stains. All this can be done in a very quick timeframe, without the worry of a drawn out recovery time.
ABOUT YOUR CERRITOS, CA, ORAL SURGEON:
Dr. Shawn Hofkes and the staff at Cerritos Dental Surgery are highly qualified to address complex issues, including those that require oral surgery to correct. To schedule an appointment or consultation with Dr. Hofkes, contact us today by calling 562-584-4082. We proudly welcome patients of all ages from Cerritos, CA, and all surrounding communities, such as Lakewood, Long Beach, Buena Park, and more.