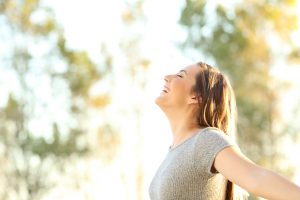 Does the idea of a beautiful white smile make you feel a quick rush of joy? The answer is likely yes! Everyone likes the thought of having a shining, glittering smile to show off to the world around them. However, that doesn't always equate to patients feeling comfortable enough to come in to let us know they would like to discuss teeth whitening. Why not? Well, the issue frequently centers on the fact that patients want lots of good reasons that will make them feel the effort is worth it. Worth the cost, the effort, the time. You get the idea! Fortunately, our Cerritos, CA team can quickly share some ways that choosing whitening can improve your daily life.
#1: You Will Immediately Feel Like Your Best Self
We offer dental services with the goal of helping your smile become healthy and beautiful and, as a result, to help you feel like the best version of yourself. We know that when you wake up in the morning to start your day, no matter where that day takes you, what you put on, or what you're accomplishing, dealing with a discolored smile can be quite a buzzkill. Why not take care of the issue by simply removing discoloration, so the foundation of your day-to-day life includes a smile that you feel wonderful about?
#2: You Will Feel A Jolt Of Happiness During Brushing
Our team knows that when you stand in front of the mirror to complete your brushing (twice a day) and your flossing (once a day), you're catching a glimpse of your smile in the mirror. If you like what you see, then you're likely to experience joy. If you don't, then you may begin connecting your upset with your dental hygiene, which is never a good thing! Maintain a positive vibe during hygiene and throughout the rest of the day by talking with us about how we can help you attain a whiter smile.
#3: It's One Less (Major) Thing You Worry About
Fortunately, when you select teeth whitening with us and you feel extremely confident in your smile, it's something that no longer has to cross your mind. Remember: You show your teeth quite often throughout the day, so this can truly affect your daily experience!
Schedule Time To Discuss Whitening With Our Team
When you are very aware that choosing teeth whitening would be a beneficial choice for you, we encourage you to take a moment to call our team to schedule a consultation, so you can learn everything you need to know. To schedule an appointment or consultation with Dr. Hofkes, contact us today by calling 562-584-4082. We proudly welcome patients of all ages from Cerritos, CA, and all surrounding communities, such as Lakewood, Long Beach, Buena Park, and more.