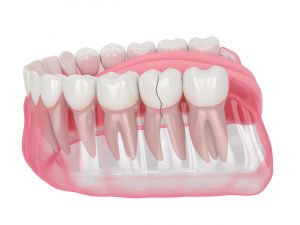 To help protect our community, we're limiting treatments to emergency situations, such as damaged teeth or severe pain in one or more of your teeth. In today's blog, we're going to talk about our emergency services, how to respond to common issues like broken teeth or serious discomfort, and when you should contact your Cerritos, CA, oral surgeon for treatment.
Addressing Your Damage and Discomfort
First: Don't try to repair the issue or treat it yourself, you could end up causing more substantial damage to your teeth or gums, worsening the issue substantially. Instead, contact our office right away if you begin to experience serve discomfort or develop a damaged tooth.
Next, rinse your mouth with warm water and try to gather up any pieces of a damaged tooth. If you can, put them in a container to wrap them in tissue and bring them to our office with you. Biting down gently on a clean washcloth or bit of fabric could help stop bleeding. To avoid facial swelling, place a cold compress or ice pack against the side of your face. You can take an over-the-counter pain medication to help ease discomfort until we can see you and treat the issue.
Now, if the tooth is more than just damaged or aching, and is instead completely avulsed (knocked-out) then pick it up by the crown, and never touch the root. Rinse the tooth under gently running water and take care to not remove any tissues. If you can, put the tooth back into the socket and bite down carefully to hold in place. If this isn't possible, place in a container of milk or salt water and bring it with you. Never use salt-free water!
Tooth Extractions and Other Solutions
We have treatments to help repair the tooth and return it to optimal function and health. If the damage is too severe however, we may need to extract it to prevent the onset of a painful infection. If you do lose the tooth, we have options available for replacement, such as implant dentistry. If you have any questions about addressing dental emergencies, then please contact our team today.
ABOUT YOUR CERRITOS, CA, ORAL SURGEON:
In compliance with the American Dental Association's recommendations regarding COVID-19 (coronavirus) and to ensure the health of our patients and team, our office will be closed until Monday, March 30, 2020. If you had a previously-scheduled appointment during this time period, we will be in touch to reschedule. We will keep you updated as new information emerges and we decide our future course of action. Please check this site frequently for any updates. If you find yourself with a dental emergency, please call Cerritos Dental Surgery in Cerritos, CA at (562) 584-4082. Thank you for your understanding. For more information regarding this decision, please visit the ADA's website.