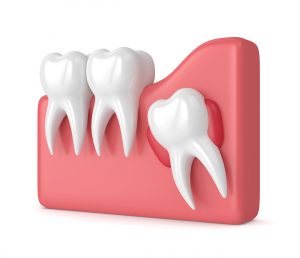 Right now, we're joining other practices across the country in closing our doors to help slow the spread of COVID-19. We're still offering treatment for emergency situations on a case-by-case basis. In today's blog, we would like to talk about a common procedure that helps preserve the health and beauty of your smile. Wisdom tooth extraction protects your smile, and for patients in need of emergency treatment, we can use advanced technology and sedation to help ensure a safe and comfortable extraction.
The Danger of Your Third Molars
When a person reaches his or her late teens or early 20s, up to four additional molars could erupt in the rear of the mouth. Wisdom teeth, also known as third molars, could partially erupt, causing a painful impaction. You could also develop misalignment, infection, and damaged teeth. However, by removing these teeth prior to eruption, this protects the health and beauty of the smile. We also recommend tooth extraction to address severely damaged teeth, to take out teeth loosened by gum disease, and to make room to reposition the smile for people undergoing orthodontic treatments. If a tooth is infected to such a degree that it threatens to spreads to other teeth, then you may need an extraction to protect your smile as a whole.
Examining Your Smile and Performing the Extraction
We start by carefully examining your smile with advanced technology, including digital x-rays. We then administer a local anesthetic to the area around the tooth or teeth we plan to extract. We also have dental sedation to help ensure you enter a calm and relaxed state. Nitrous oxide is administered through a mask over the nose, and the effects wear off almost immediately following the procedure. IV sedation offers a much deeper state of relaxation, and you will be monitored by an anesthesiologist. We will be happy to address any questions or concerns you may have prior to the procedure.
Recovery
A friend or family member will bring you home afterward, and we will prescribe antibiotics to assist with the healing process. For the first day or two, we suggest avoiding strenuous activities and relaxing. During a follow-up, we will remove the sutures and ensure everything is healing as it should!
ABOUT YOUR CERRITOS, CA, ORAL SURGEON:
In compliance with the American Dental Association's recommendations regarding COVID-19 (coronavirus) and to ensure the health of our patients and team, our office will be closed until Monday, March 30, 2020. If you had a previously-scheduled appointment during this time period, we will be in touch to reschedule. We will keep you updated as new information emerges and we decide our future course of action. Please check this site frequently for any updates. If you find yourself with a dental emergency, please call Cerritos Dental Surgery in Cerritos, CA at (562) 584-4082. Thank you for your understanding. For more information regarding this decision, please visit the ADA's website.