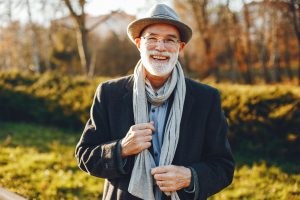 Periodontal disease is a difficult condition that can cause a number of other health risks. Periodontal disease refers to conditions that affect the health and wellbeing of your jawbone and gums. When you develop gum disease (gingivitis), the condition is caused by infection beneath the gum line. As that infection grows and spreads, it can begin to destroy your jawbone (periodontitis). Periodontitis is an irreversible condition, but it can be managed. If you are suffering from periodontal disease, there is a way back for you.
Treating Gum Disease and Managing Periodontitis
The early stages of gingivitis are reversible. If you treat the condition in time, you can undo the damage that has been caused by bacteria and allow your jawbone to heal. This is done using scaling and root planing. Your dentist will carefully access the area beneath your gum line to clean out all of the bacteria and infected tissue. Your dentist will then smooth out the roots of your tooth. This will allow the roots of your teeth to reconnect with your jawbone. If you have developed periodontitis, you cannot reverse the condition, but you can still manage it by using this procedure.
Jawbone Grafting Can Save Your Jaw
Your jawbone gives your mouth stability. It's also what holds your teeth in place. If your jawbone begins to lose mass, it can have oral health ramifications for the rest of your tissues and teeth. Periodontitis causes irreversible damage and deterioration to your jawbone over time. It can also result in tooth loss. To prevent these consequences, your oral surgeon may recommend bone grafting to repair your jaw. This is the best way to recover your smile, your facial structure, and your overall oral health.
Dental Implants Require a Strong Jawbone
If you have suffered tooth loss from periodontal disease, or from another condition, you may want to replace those teeth with dental implants. Implants are strong and sturdy because they are surgically placed into your jawbone, like the roots of a tooth. In order to place an implant, however, your oral surgeon needs to be sure that your jawbone is strong enough to support the implant. If your jawbone has been weakened by periodontal disease, your dentist might recommend bone grafting prior to implant surgery. The stability that this treatment offers is worthwhile.
ABOUT YOUR CERRITOS, CA, ORAL SURGEON:
Dr. Shawn Hofkes and the staff at Cerritos Dental Surgery are highly qualified to address complex issues, including those that require oral surgery to correct. To schedule an appointment or consultation with Dr. Hofkes, contact us today by calling 562-584-4082. We proudly welcome patients of all ages from Cerritos, CA, and all surrounding communities, such as Lakewood, Long Beach, Buena Park, and more.