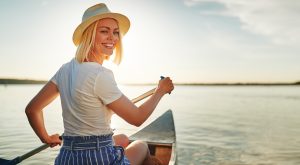 The arrival of summer means tons of fun in the sun, of course, which sounds extremely relaxing and smile inducing. All you need to make the most of this time of the year is a pair of sunglasses, a good book, a beach towel, and you're good to go, right? Well, not exactly. Remember that when you're spending time outdoors and enjoying summery activities, you're exposed to some possible causes of oral health damage that you don't need to worry about with such attention during the rest of the year! Fortunately, though, we can help you prep quickly and effectively, so you can have fun and keep that smile in wonderful shape!
Tip: Wear All Of The Sunscreen Options!
Wear a hat, cover your face in sunscreen, apply SPF lip balm, and try to stay out of the sun during its peak hours! Why, you ask? Well, remember that the harmful UV rays of the sun can contribute to the development of skin cancer and lip cancer! A little oral health protection goes a long way.
Tip: Rely On Your Common Sense When Pool Side
Nope, it isn't always fun to use common sense when what you really want to do is enjoy your fun in the sun with reckless abandon! However, since the benefits outweigh the cons when it comes to your smile health, you will probably agree that this is one tip that is always helpful! Generally speaking, this applies most strongly to times when you're doing something summer-related that you don't usually have to worry about, such as spending time at the pool! Remember that this becomes a slip hazard, that getting in and out of that swimming pool is a hazard, and that simply being in the pool is dangerous if you're not paying attention! So, follow pool rules, pay attention, use the stairs, and you can avoid oral health damage that will suddenly leave you requiring a dental implant or two!
Tip: Don't Shy Away From Scheduling Emergency Care (When Needed)
We really hope that you do not accidentally break a tooth, get a seed stuck in your smile, or otherwise! However, if a summertime oral health emergency strikes, call us ASAP for the emergency visit you need!
Protect Your Smile This Sun-Filled Summer
Keep your smile safe throughout the summer season, so you can have fun without dealing with the distraction of worrying about your oral health. Need a little assistance? Kick the season off right by coming in for a visit! To schedule an appointment or consultation with Dr. Hofkes, contact us today by calling 562-584-4082. We proudly welcome patients of all ages from Cerritos, CA, and all surrounding communities.