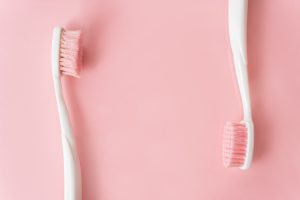 First, you enjoy absolute relief that there is a way to fix whatever it is that is bothering you in terms of your smile, while the end result includes a beautiful finish. Thanks to porcelain used in veneers and ceramic crowns, you have a world of options at your fingertips, whether you're dealing strictly with esthetic concerns or oral health damage, as well. Where patients often find themselves pulling back from their initial excitement? Worrying about long-term maintenance, of course! The good news here is that our Cerritos, CA team can help you feel much better about the details.
Your Dental Work Is Strong!
You might think that anything composed of porcelain must be ready to break at any moment. This makes sense, of course, since your understanding of porcelain is likely linked to home goods that are quite delicate. With that said, scrap your understanding of this material for other things and instead, focus on your dental care. Remember that for ceramic crowns, porcelain veneers, etc., you're receiving a very carefully, strategically, multi-layered treatment that is crafted specifically to withstand the daily pressures of smile use! See? There's nothing to worry about, assuming you're not pressing your smile beyond its limits.
You'll Keep Brushing And Flossing Just Like Always
Your brushing isn't going to change. Come to think of it, your flossing isn't going to require anything different either. Instead, what will happen is that you will go home from receiving dental care with us and you will protect your ceramic crowns, your veneers, etc. by following the preventive care recommendations we have always made and will continue to make. Worried that you're missing some important information in regard to proper care? Just call!
We're Always Here To Offer Help
Don't forget that we are always here to help you when you aren't feeling too confident about a particular treatment because you have questions, when you are interested in reviewing something like dental hygiene with us, and the list goes on. For your every smile-related curiosity, our team is standing by to listen and to then offer informative, helpful details and explanations.
Restore Your Smile With Ceramic Crowns
Remember that choosing any type of restorative or cosmetic care with us will yield beautiful results than can last for many years! All you need to do is brush up on the easy care facts when you visit us. To schedule an appointment or consultation with Dr. Hofkes, contact us today by calling 562-584-4082. We proudly welcome patients of all ages from Cerritos, CA, and all surrounding communities, such as Lakewood, Long Beach, and more.