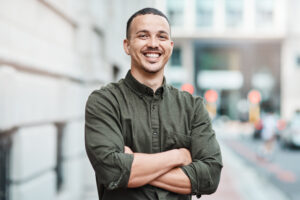 When you decide to improve your smile's appearance, cosmetic dentistry can help. Our services can address various issues with the beauty of your teeth. By treating stains, physical imperfections, and even missing teeth, we can return your confidence showing off your smile to others. At your Cerritos, CA dentist's office, we offer esthetic treatments in addition to those that improve your dental health.
Planning Your Cosmetic Treatment
Enhancing your smile requires knowing what all procedures are available for your treatment. When you meet with the team at Cerritos Dental Surgery, we will evaluate your teeth to help form a comprehensive cosmetic treatment schedule. As we go over each technique, we will explain how it could potentially help you reach your vision. From your first visit, we invite you to remain vocal throughout the entire implementation process.
Ceramic Crowns
When one of your teeth becomes damaged, a ceramic crown can provide structural support as well as a beautiful appearance. This long-lasting treatment surrounds the entirety of a tooth above your gumline to cover any cracks, stains, chips, or degradation from decay. Modern materials allow your crown to blend in naturally with the rest of your smile. After installation, we encourage you to maintain high oral hygiene standards to maintain your restoration. While a crown itself is not susceptible to decay, neglecting to clean your teeth can cause decay underneath.
Porcelain Veneers
Porcelain veneers are a more conservative cosmetic procedure that does not remove as much of a tooth's structure as a dental crown. This treatment works by simply placing a custom shell over the front surface of your tooth. Because we select the shape and color of your veneer, they are a wonderful solution for multiple cosmetic issues. You can hide chips, and gaps, or restore height to a worn-down tooth. For teeth that do not respond to bleaching treatment, this service covers blemishes as well. Veneers offer a clean, new smile without radically altering your underlying teeth.
Teeth-Whitening Treatment
If you have yellowing or blemishing teeth, we offer a teeth-whitening solution to enhance your natural color. By placing a bleaching gel on your teeth's surface, we can break up and strip materials that discolor your enamel. This can help you regain confidence in a brighter smile without replacing the stained tooth.
ABOUT YOUR CERRITOS, CA, ORAL SURGEON:
Dr. Shawn Hofkes and the staff at Cerritos Dental Surgery can help you address complex dental issues, including those that concern the appearance of your smile. To schedule an appointment or consultation with our team, contact us today by calling 562-584-4082. We proudly welcome patients of all ages from Cerritos, CA, and all surrounding communities, such as Lakewood, Long Beach, Buena Park, and more.