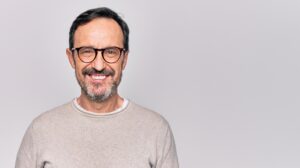 If you have recently lost one or more of your teeth, you know the difficulties go beyond the effect on your personal appearance. In addition to creating an unsightly gap in your smile, tooth loss makes it hard to comfortably bite and chew at mealtime. This is because you shift your jaw in awkward positions to work around the missing area. You may cause uneven wear and tear to teeth on one side of your mouth as you avoid chewing on the side with a gap. Left untreated, your remaining teeth begin to shift position and move towards the opening. This means that your teeth become misaligned and can even become loose, leading to potential further losses. Your Cerritos, CA dental team knows that preventing further harm to your smile requires accessing your prosthodontic options for replacement. We can guide you through the frustration of tooth loss and improve satisfaction with your smile through placement of a dental implant.
Tooth Loss Is A Real Pain
Whether from gum disease, physical trauma, or any other cause, losing a tooth impacts your ability to enjoy a normal life the moment it occurs. As your bite misaligns, you can develop stiffness and pain in your jaw that you feel when having a meal. Missing teeth can affect the shape of your face as the mouth and cheeks sink into the missing area. This can give you a much more aged appearance beyond your natural years. To protect your looks and reinforce your bite, consider restoration with a dental implant from your dentist.
Dental Implants Replace Missing Teeth
If we see that you are a candidate for this procedure, we can insert a titanium implant directly into your jawbone. As your body heals from treatment, your tissues fuse to the post, holding it securely in your jaw for years to come. The post allows us to place an abutment that can connect a restoration above your gumline and return your ability to chew. We can design a dental crown for attachment to achieve your esthetic goals as they mimic the appearance of a natural tooth.

Sometimes tooth loss or periodontal disease leads to losing enough healthy jawbone density to support placement of an implant. In this case, we can determine if surgical treatment through bone grafting can help restore density to your jaw. A bone graft can take healthy tissue from a donor site and move it to the area needing assistance.
Talk To Your Cerritos, CA Dentist Office About Restoring Your Missing Tooth With A Dental Implant!
Dental implants enhance the look and function of your smile after losing a tooth. Our team offers consultation to design and place restorations that restore confidence in your smile. For more information on this procedure, contact your Cerritos, CA dentist's office at 562-584-4082. We also serve patients from all surrounding communities such as Lakewood, Long Beach, and Buena Park as well.