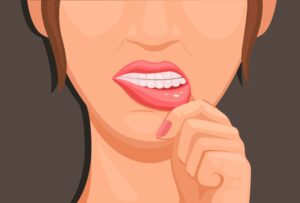 Treating any disease begins with its identification. Attending your semiannual examinations and cleanings allows your dentist to inspect your mouth for the signs of oral cancer. While oral cancer may seem rare, be vigilant in attending examinations because it can be deadly when it develops. The American Cancer Society estimates that oral cancer claims about 11,000 lives while around 54,000 new cases appear each year. One in five of these new cases appear in people under the age of 55. Therefore, oral cancer screening is important at all ages.
Successful oral cancer treatment is correlated with how early you make its discovery. Fortunately, routine examination is usually painless and performed quickly. Your dentist will visually inspect the inside of your mouth as well as feel your neck and jaw for any abnormal lumps. If identified by your regular dentist, a referral to our Cerritos, CA oral surgery office can provide state of the art oral cancer treatment options for your recovery
Check For These Signs At Home
In between your regular six month visits with your dentist, look carefully for signs associated with oral cancer. Differences in the normal color of your healthy mouth tissue should be reported to your dentist. Red and white patches that suddenly appear in your mouth or under the tongue may indicate cancer. Furthermore, it can present as sores that bleed or fail to heal in a timely fashion. You may experience a sore throat or even the loosening of your teeth as well. If you notice any of these issues, schedule an appointment for a pathology review.
Treating Oral Cancer Early
After examining your mouth and suspecting an oral cancer diagnosis, we will perform a biopsy of the affected area. After removing a small piece of tissue, we will send the material to a pathologist for the determination of the cancer's existence. If the biopsy is returned negative, we will closely monitor the visual appearance of the tissue at each subsequent visit. If the biopsy is returned positive, we will discuss further oral cancer treatment options with you at that time. Each cancer presents at different stages and scope of development and therefore treatment is tailored to your unique condition. Treatment can include the physical removal of tumor tissue, chemotherapy, radiation therapy, and reconstructive surgery of the damaged area.
Contact Your Cerritos, CA Oral Surgeon Today:
Routine screening for oral cancer improves the odds of successful treatment by identifying it in its early stages. If you believe you may be in need of an oral cancer screening, please contact our Cerritos, CA dental practice today at 562-584-4082. Our staff gladly serve patients from the surrounding communities of Lakewood, Long Beach, and Buena Park as well.