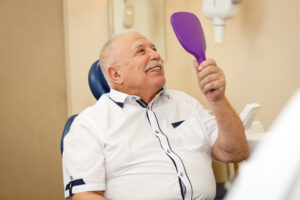 When oral health problems are caught in time, the services needed to address them are often able to minimize any permanent changes to tooth structure. While you may require a dental filling or dental crown for a problem tooth, you still preserve your complete, confident smile. Unfortunately, there are times when treatment will include the extraction of a tooth. The most common reason why adults lose teeth has to do with the effects of gum disease. However, a severe cavity or injury can also necessitate a tooth's removal. Our Cerritos, CA dentist's office can provide expert care to remove a tooth. A proper extraction is important for preventing complications that cause discomfort and delay plans to restore your smile with a custom prosthetic appliance.
Why Some Vulnerable Teeth Must Be Extracted
As gum disease causes unchecked harm to the tissues that support teeth, you become more susceptible to tooth loss. In many cases, the appropriate approach to addressing this includes the removal of loosened teeth. Tooth extractions also occur when severe cavities have resulted in infections that spread and create serious threats to your oral and general health, as well as when physical injuries leave teeth beyond saving. Fortunately, a safe extraction can be part of a larger plan to completely restore your smile by safely replacing what you have lost.
We Can Provide The Safe Removal Of An Unhealthy Tooth
As part of a larger plan to completely restore your smile, we can provide a safe tooth extraction. The approach we take will depend on the state of your tooth and the surrounding tissues. To help make the experience as comfortable as possible, we can include dental sedation in the support we offer. Once the tooth is removed and the area is treated, you can be free from discomfort from an infection or injury, and you can look forward to having what was lost replaced with a lifelike prosthetic.
Making Plans To Restore Your Incomplete Smile After Your Extraction
Prosthodontic care that includes dental implants can offer meaningful benefits. In addition to making your smile whole again, this service provides enough stability from your restoration to let you bite and chew in a way that feels natural. Implants also provide important support for neighboring teeth as well as stimulation in your jawbone to keep the tissues from deteriorating.
If you need to undergo additional work to prepare you for implant placement and restoration, we can work with you to create a personalized treatment plan. Working through the active threats to your well-being can ultimately lead to exciting cosmetic and health improvements!
Talk To Your Cerritos, CA Dentist About Tooth Extraction!
Through tooth extraction, we can take care of your smile by removing a tooth that threatens you and replacing it with a restoration that suits your smile and provides important bite support. If you would like to find out more, please call Cerritos Dental Surgery in Cerritos, CA at (562)584-4082!