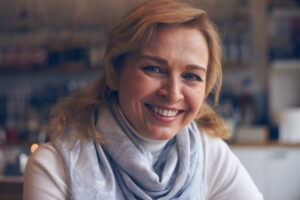 Your difficulties with tooth loss can go beyond how it affects your smile. One absent tooth can seriously compromise your ability to bite and chew. It can also lead to difficulties as teeth next to this absence go without support and gradually loosen in time. With all that said, the right prosthetic treatment solution can take on problems with your oral health while also giving you back confidence in how you look. Our Cerritos, CA dentist's office can provide an effective non-surgical solution to the problem of tooth loss. A custom dental bridge is placed permanently with a pair of dental crowns. With this arrangement, the restoration will remain stable enough to absorb bite pressure, which means you can return to a natural bite function and broader diet.
Tooth Loss Can Leave You Lacking Smile Confidence
Every time you flash your smile or speak after suffering tooth loss, you can feel discomfort at how you might look to others. People can take negative impressions from that gap in your smile, which means you can experience professional and social consequences. You can also experience difficulties with poor bite health, which can make eating a varied, nutrient-rich diet more difficult. There are different options available for addressing this problem. One involves a dental bridge, a permanent restoration that can be placed without the need for oral surgery.
Providing A Dental Bridge That Can Improve Your Appearance And Bite Function
When you receive a dental bridge, you regain a complete smile, and you enjoy important support for your bite health. The appliance stays in place thanks to a pair of dental crowns, which are set on the two teeth at either side of your gap. That placement ensures that your bridge will be stable enough to stay in position even when you use it to bite and chew. Care is taken to customize it so that it fits properly and also has an appearance that benefits your smile.
What Else Can You Do To Restore Your Complete Smile?
The option to restore your full smile with a dental implant-held appliance is also available to you. Implant dentistry keeps permanent restorations in place without modifying neighboring teeth. It also helps you by creating important stimulation in your jawbone, which prevents the deterioration of the structure. We can discuss the potential impact of this as an alternative to receiving a dental bridge when you come in to discuss treatment.
Talk To Your Cerritos, CA Dentist About Treatment With A Dental Bridge!
The right restoration can give you back your confidence in your smile and bite health after you suffer tooth loss. If you would like to find out more about how we can help you by providing a dental bridge, please call Cerritos Dental Surgery in Cerritos, CA at (562)584-4082!