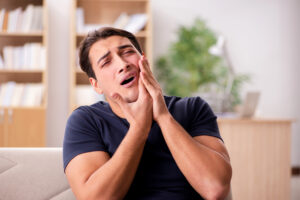 The majority of dental visits will be planned in advance. Whether someone requires a routine checkup or wants to take on concerns about their smile, services can be scheduled and addressed in a timely manner. However, if you experience problems with significant discomfort, or if you suffer an injury that leaves you with a damaged, loose, or lost tooth, waiting for your next appointment will understandably be difficult. In these circumstances, you do have access to emergency oral health services at our Cerritos, CA dental practice. As a result, you can count on timely care that lowers your risk for dental complications and shortens the time that you spend experiencing discomfort.
A Dental Emergency Can Be An Upsetting Experience
It can be difficult to focus on much beyond the pain you feel and the condition of your smile during a dental emergency. Our practice understands this, and we can make care easier to receive by making our services available on short notice. Knowing that you can contact a practice and see a professional with minimal delay can certainly be a relief, but this access is about more than just comfort—having dental work done in a timely manner will lower your risk for experiencing complications.
We Provide Important Services On Short Notice
When you suffer a tooth injury that leaves you with broken enamel or an incomplete smile, or you start to suffer from alarming discomfort, know that an emergency dental visit is available to you. During your appointment, we will assess just how serious the matter is before recommending the right response. The right care may require endodontic services such as root canal therapy. While tooth loss is something that we strive to prevent, we can proceed by safely extracting an injured or infected tooth before making arrangements to provide a replacement.
Taking Care Of Your Oral Health Needs While Also Restoring Your Smile
Through the appropriate treatment, your oral health difficulties can be managed in a timely manner. Restoring your tooth structure and dealing with any concerns about infection or structural damage is certainly vital to the success of your procedure. With that said, we also take care to provide work that restores patients' appearances. We can do this by using restorations that closely imitate healthy enamel, which means treatment will not stand out. If you receive a prosthetic, we can rely on a dental implant to provide remarkable stability and comfort along with functional support.
Talk To Your Cerritos, CA Dental Practice About Emergency Dental Services
Through emergency dental services, we meet patients' needs at times when they require help in the shortest time possible. If you would like to find out more about how you benefit from accessing this kind of care, please call Cerritos Dental Surgery in Cerritos, CA at (562)584-4082!