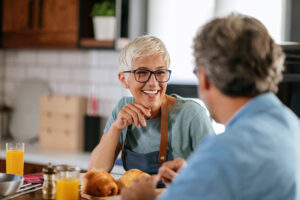 Dental surgery can be helpful to restore injured or infected smiles. This term refers to a few different procedures that include the physical movement of parts of the mouth as a medical remedy. Gum grafting, for instance, is the repair of our periodontal recession. This process can help renew a vigorous gumline and the barrier that this material provides. By ensuring that the gums shield the defenseless mechanisms that connect the jaw to your teeth, you could avoid further harm.
Tooth extractions can also be a surgical procedure if it requires incisions to complete. This differs from a simple extraction, where all the material can be taken from the surface. In our Cerritos, CA office, we specialize in the surgical treatment of oral health concerns. Your restorative solution can help you to have a smile that can grow in its vitality!
Periodontal Repair Can Strengthen Overall Oral Health
One of the most common forms of American oral concerns is periodontal disease. This is when a bacterial infection takes hold within the gum tissue. Periodontal disease affects over four in every ten of us in this country, and it can lead to danger in the future of your smile. When this material pulls back from its natural location on the tooth, it can develop pockets that gather food and debris. The teeth at this area may also become loose and more likely to require removal.
Your dentist may suggest a gum graft in order to curb further progression of this condition. A free gingival graft begins with the removal of any damaged tissue to limit the possibility of reinfection. Then by stretching your healthy periodontal matter to your proper gumline, this protective shield is restored.
Extractions Can Be Necessary For Future Health
From time to time, a tooth can develop severe complications and an extraction procedure is necessary. There are two different forms of this process, a simple and a surgical variety. The first refers to a removal that is able to be performed without an incision. For more complicated situations, it may require the use of surgical techniques. This may occur if the root has become weak and the structure cannot withstand the stress of the pull.
An extraction procedure can be a vital step in the placement of a strong new prosthetic. Our office proudly offers dental implants as well as bridges and partial dentures. There is accessible treatment to bring your smile back to a functional and beautiful level!
Your Surgical Solution In Cerritos, CA
If you are struggling with the health of your smile, do not put off treatment any longer. Addressing your concerns can help you to avoid future issues. Contact Cerritos Cental Surgery in Cerritos, CA at (562)584-4082 to learn about how we can help you to have the best smile possible!