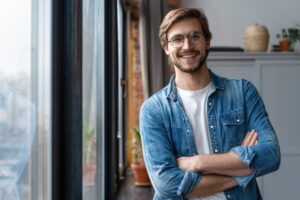 Cosmetic dentistry might often seem superfluous by its very nature. But there are often amazing benefits to be had with improving the quality of your smile. One area where an enhanced appearance may significantly help you is in your professional development and networking.
The smile conveys a distinct message during a first impression, and noticeable oral health concerns can detract from your ideas and drive. By allowing your meetings to focus on your ability, you can rest freely and bring your confidence to a level you have yet to experience. At your Cerritos, CA dentist, we understand the connection between your oral health and its social nature. A cosmetic approach might be just what you need to take things to the next level!
Walk Into Your Meeting With Confidence
When your smile is not where you want it to be, your self-esteem can take a real hit. You may start to cover yourself or change the manner in which you speak in order to avoid showing your mouth. This may be a natural defense mechanism, but it can be noticeable to others. Hiding from yourself is a biological sign of weakness, so you might be putting yourself at a bit of a hindrance to start.
Refresh With Whitening
If you struggle with your dental appearance due to the buildup of stains on the enamel, a whitening procedure may help you to quickly restore your confidence. While plenty of over-the-counter options are available to help you remedy this situation, it is always best to consult with a trained oral health provider first. Every smile has its own special set of strengths and weaknesses, and these may weaken your enamel.
The experience and training that comes alongside a professional whitening is invaluable. Both from a cosmetic and medical perspective, at-home treatment alone can lead to overbleaching and strain. If the coloration problem stems from something other than stains, as well, you could be treating a problem with an improper solution!
An Elegant Refinement With Porcelain Veneers
Another fantastic way to improve the look and feel of your smile is through porcelain veneers. This form of enamel repair and enhancement uses a thin layer of translucent ceramic material to create a new outer surface of your tooth. Since the porcelain has roughly the same durability as our natural enamel, care is simple and these can last for decades with proper maintenance!
This procedure is highly versatile and is suitable for solutions ranging from single repair to full cosmetic improvement. Schedule an appointment for a consultation to see how this process may be a fantastic fit for your goals.
A Bright Dental Outlook In Cerritos, CA
 Contact Dr. Hofkes at Cerritos Dental Surgery today in Cerritos, CA by calling 562-584-4082 for more information on how cosmetic enhancement may help you reach your professional goals through self-confidence. Our process amplifies the holistic benefits of oral health, mentally and physically!