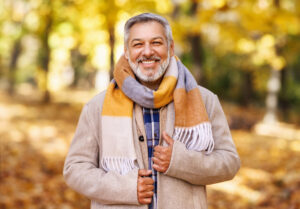 There are endless ways that someone might lose a tooth. This situation might arise as a result of physical trauma, such as a car accident or an errant trip on the stairs. No matter how well you attend to your oral health, sometimes things are out of your control. The most important thing is that you take the necessary steps in keeping your smile staying strong and beautiful.
Our oral hygiene can lead to other situations where bacteria and fungal infection can require the extraction of a tooth. Infection can creep in through cracks or breaks, or as a result of periodontal disease. When you require an extraction, you have the option of a tested and health-positive method. Today, your Cerritos, CA dentist shows you some of the ways that a dental implant can be a great investment in your oral health future.
A Biologically Stable Foundation
The basis for dental implant surgery as a replacement for your loss comes through a process known as osseointegration. Posts for this procedure consist of titanium, which is a very unique metal. This chemically has a property where our own immune system recognizes it as our own healthy tissue. Titanium is also used in the creation of prosthetics for limb replacement surgery, for this reason. Connection between the body and the metal has become so strong that a new sense, similar to touch, has been observed in prosthetic limbs.
A Technological Connection
Another significant benefit of dental implant surgery is that it allows you to best plan for your smile's future. Most other forms of restoration are about crafting a new dental solution that is then subject to the same wear of time as our natural teeth.
With the use of these titanium posts, however, the possibilities only become stronger with age. If there is an issue with your prosthetic tooth, it is possible to replace it with a different one without the trauma of surgery in the bone. And if you lose more teeth, your prosthetics can be expanded up to and including a full set of implant-supported dentures.
Restoration Within Reach
Some patients may feel that implant procedures are inaccessible due to their technological edge. But due to some advancements within production and design, they are more available to you than ever. 3D printing is allowing the dental industry as a whole to develop durable prosthetics in record time.
CAD, or computer-aided design is tied to this concept in the creation of your smile addition. Today, it is easier than ever to adjust small details within your smile that can give you a better feel and appearance!
ABOUT YOUR CERRITOS, CA, ORAL SURGEON:
Dr. Shawn Hofkes and the staff at Cerritos Dental Surgery are highly qualified to address complex issues, including those that require oral surgery to correct. To schedule an appointment or consultation with Dr. Hofkes, contact us today by calling 562-584-4082. We proudly welcome patients of all ages from Cerritos, CA, and all surrounding communities, such as Lakewood, Long Beach, Buena Park, and more.