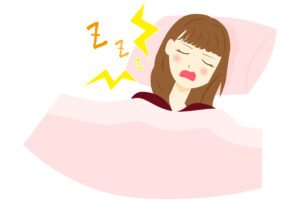 Many people grind their teeth in their sleep. When this condition becomes serious, it can cause major damage to your oral health. Bruxism, or the term for this unconscious movement, can wear down your teeth. This can lead to both cosmetic and dental issues that will need addressing with a separate procedure. This can also lead to undesired changes in your mouth's alignment, once again requiring an additional maneuver to spare your smile.
While success has been limited in the ability to mentally stop these twitch movements while you're unconscious, we can take certain steps to ensure that our jaw cannot be causing damage in the hours while we are asleep. Today, your Cerritos, CA dentist discusses some of the benefits that you may see when you start wearing a custom mouthguard at night!
How Do I Know?
Some people may be completely unaware that they are hurting their smile while they sleep. After all, their eyes are closed, and they aren't exactly paying close attention to their behavior. Many people actually find out because their partner notices something over the night! But there are certainly signs that you may see if you are suffering from bruxism.
You may notice a change in the individual structure of your teeth in the areas that are affected. Molars become less defined and flat, which can lead to issues with chewing, as well as tooth decay. Your incisors may shorten, as well, which leads to an unappealing look. If the damage exposes the root, you can develop an infection which will require a root canal. Let's try to avoid this type of wear if at all possible, and we can tell you how!
How Can I Help?
If you believe you may be causing harm to your smile overnight, don't wait! You could be pushing your smile out of alignment, losing symmetry in your face. Keep your beauty, as well as your function, too. When your jaws don't interact with each other appropriately, it can lead to many different types of concerns that require surgery to correct.
While clear aligners have made adjustment treatment much more palatable for adults, it is always better to prevent trauma than to correct it. And custom-fit mouthguards from your dentist can be a fantastic solution in protecting your smile. These are smaller, and less hassle than a boil-and-bite guard that you can purchase at the drugstore.
By wearing these while you sleep, you prevent the enamel from hitting itself, and instead, the soft plastic cushions the contact. Patients often report near-immediate results, so call today for more information!
ABOUT YOUR CERRITOS, CA, ORAL SURGEON:
Dr. Shawn Hofkes and the staff at Cerritos Dental Surgery are highly qualified to address complex issues, including those that require oral surgery to correct. To schedule an appointment or consultation with Dr. Hofkes, contact us today by calling 562-584-4082. We proudly welcome patients of all ages from Cerritos, CA, and all surrounding communities, such as Lakewood, Long Beach, Buena Park, and more.