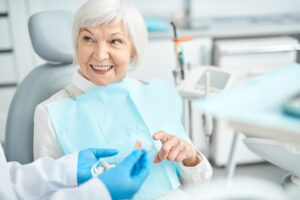 When people start to think about the possibility of replacing a tooth (or several) with a prosthetic, they may get a little overwhelmed. After all, you've spent your entire life with your natural biological material, so it may be a little strange and new to you.
For most people, this is not something that they have spent much time researching until they already have a situation that requires help. So we are here to answer your questions, big or small. After you have initially decided to have an implant placed, feel free to bring up any and all concerns you have with your dentist.
So today, your Cerritos, CA dentist goes over some everyday questions and concerns that patients often have. And as always, if you have anything else that pops into your head, give us a call and we can futher plan how we can craft you a strong smile with a gorgeous natural appearance!
I Am Totally Unfamiliar
If you are coming into this situation without any knowledge of dental implants, don't be worried. We will walk you through the entire process from start to finish, and make sure you are kept in the loop on what we need to do.
These prosthetics rely upon a titanium post that we place into your jawbone. Due to a process known as osseointegration, your bone grows alongside the metal, without the immune response you typically see with foreign bodies.
My Situation Is Unique
Every smile has its own set of challenges and strengths. Due to the success of these posts in creating a sturdy base, there are many different ways that new teeth can be created to fit your specific demands. Everything from a single replacement to a full new set of implant-supported dentures is possible with this technology. Schedule an appointment today and we can begin to plan a route for your oral health, custom tailored to your mouth.
Our ability to match coloration gives us a lot of freedom as well. If you would like to have a whitening procedure, we can discuss when the appropriate timeline may be for that. This is important because most prosthetic pieces do not accept bleaching in the same way that our natural material does. This is something to discuss if you are needing porcelin veneers, as well.
What Is The Maintenance?
Patients are often concerned with how any replacement or restoration will hold up going into the future. This is definitely understandable, and advancements over the past few decades have led to prosthetics that can last decades. In fact, even the first titanium-post implant lasted the patient from 1965 until her death 40 years later.
We have also become much more accustomed to these, and that has led to the creation of materials and designs that should last you indefinitely. You should stick to a strict oral health regimen, which always includes twice-daily brushing, and flossing every day. As with everything, we will talk you through each step. Please adhere to your dentist's rules for your best chances of success, and always bring up any questions!
ABOUT YOUR CERRITOS, CA, ORAL SURGEON:
Dr. Shawn Hofkes and the staff at Cerritos Dental Surgery are highly qualified to address complex issues, including those that require oral surgery to correct. To schedule an appointment or consultation with Dr. Hofkes, contact us today by calling 562-584-4082. We proudly welcome patients of all ages from Cerritos, CA, and all surrounding communities, such as Lakewood, Long Beach, Buena Park, and more.