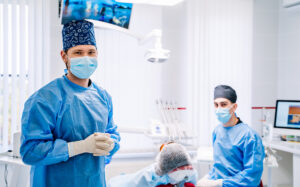 No matter how much we take care of our smiles, there is always the possibility of a catastrophe. We risk car accidents daily, or even a clumsy slip over a set of stairs can leave our smile broken on the ground. The best thing for you to do is to be ready in this situation, so that you can be able to rationally and calmly handle it.
Today, your Cerritos, CA dentist explains what to do if you have broken or lost a tooth in a dental emergency. And how you can feel calm during this oral health storm!
It Happens
Despite its seeming rarity, you might be surprised at how common people break their teeth. They simply have it repaired before you have a chance to notice it, and if the work is good, you will hopefully not be able to tell!
The first thing to remember is that you should always defer to the emergency room if you think there may be a serious risk to your health. They have the ability to make sure that you stay alive, first and foremost. If you cannot stop the bleeding in your mouth, you should see the ER, as blood loss can be fatal.
If you also happen to live in a rural area without access to a 24-hour emergency dentist, the ER may be the best bet for you. Waiting in these situations until the dentist opens in the morning can mean serious lasting harm to your smile.
Stay Calm
I know it is incredibly difficult to take this moment in stride, but the calmer you can be, the less important things you are likely to forget. The damage has already been done, so worrying about it at this point can only bring you disappointment. But knowing what to do can save you time, money, and a lot of anxiety.
First, collect as many pieces of your own biological tissue as you can, as our ability to reattach improves with more of your own teeth. Place them in a paper towel or bit of fabric, and if it is the entire tooth that has been knocked out, you will certainly not want to lose it.
Put it into a cup of saltwater or milk, but never use regular water. That can cause further damage that impacts our ability to reattach. If it does fit back into the socket, you can place it gently back in place, and keep it there until you see your trained oral health professional.
ABOUT YOUR CERRITOS, CA, ORAL SURGEON:
Dr. Shawn Hofkes and the staff at Cerritos Dental Surgery are highly qualified to address complex issues, including those that require oral surgery to correct. To schedule an appointment or consultation with Dr. Hofkes, contact us today by calling 562-584-4082. We proudly welcome patients of all ages from Cerritos, CA, and all surrounding communities, such as Lakewood, Long Beach, Buena Park, and more.