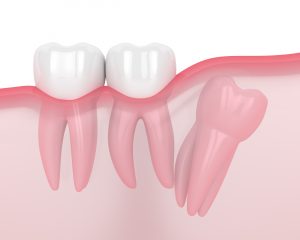 Our doors are currently closed in order to ensure the continued health and safety of both our patients and our team members. However, your Cerritos, CA, oral surgeon is still providing emergency treatment for people in need in our community. In today's blog, we're going to look at wisdom tooth extraction, and discuss how we perform this procedure to preserve smiles.
Planning Your Procedure
Prior to the quarantine measures put in place to prevent the spread of COVID-19, we likely examined your smile employing advanced digital technology to gain a detailed picture of everything happening beneath the gums. If you have wisdom teeth on the cusp of eruption, we would likely talk to you about an appointment to remove them. After all, extracting wisdom teeth helps prevent the onset of a myriad of complications, such as painful impaction, infection, swelling, cysts or tumors, damaged teeth, and misalignment. Using our advanced technology, we can plan the extraction process and discuss sedation options to ensure you feel comfortable and relaxed.
Removing Your Tooth
Removing wisdom teeth is still a serious procedure and one we can offer as part of our emergency treatments. We will open the gums above the teeth and then access and remove the teeth carefully with forceps. Next, our team will suture the extraction site closed. When you come home, we will have antibiotics and pain medication for you to take to facilitate the healing process. We'll provide detailed instructions for eating and smile care in the next day or two, and schedule a follow-up to remove the sutures. You then continue to enjoy your smile's current appearance, without worry about negative changes due to erupting wisdom teeth.
Addressing Emergency Scenarios
A tooth extraction could also address other serious issues, such as broken or severely cracked teeth. Taking them out then prevents painful infections or complications that could eventually impact the surrounding teeth. We also have measures to repair damaged teeth that need emergency treatment, but may not require an extraction. If you have any questions about treatment for dental emergencies or about the health and safety measures we follow to protect the health and stability of your smile, then contact our team today.
ABOUT YOUR CERRITOS, CA, ORAL SURGEON:
We're complying with the American Dental Association's recommendations regarding COVID-19 (coronavirus). Which means to ensure the health of our patients and team members, our office will be closed with the exception of emergency procedures.  We will update our website and social media with the latest information, so check in often. If you find yourself with a dental emergency, please call Cerritos Dental Surgery in Cerritos, CA at (562) 584-4082. Thank you for your understanding. For more information regarding this decision, please visit the ADA's website.