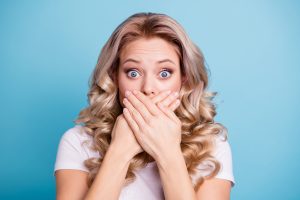 Just the fact that you have to schedule an emergency dental visit to head to a dental practice? It's not something that puts a smile on your face! However, you do have to admit that it's a huge relief you have access to care when you feel you require it most. With that said, you may find yourself cringing as you wonder whether this issue you're seeing as a huge emergency is potentially nothing much at all that we will dismiss. Here's the thing our Cerritos, CA team really want you to keep in mind: If it seems urgent, we trust that it's a problem. Come in. We'd much prefer to check out the situation and protect your oral health than miss something that needs attention right now. Allow helpful examples to offer you some insight!
A Sore (Etc.) That's Worse Than Usual
We know that there's a big difference between dealing with a canker sore that is just like what you've experienced before and then a sore that seems angry, huge, and persistent! The latter is certainly worthy of an emergency dental visit. Perhaps you deal with some other scenario that's more intense than anything you've dealt with in the past. Again, trust your instincts and call us to schedule a visit right away!
A Change That's Scaring You
Maybe you just noticed a lump that is causing you some exceptional amounts of stress. Maybe you're dealing with severe pain and though you could take a pain reliever, that's not the point: It seems like something is wrong. Call us. Talk us through the details of what you are experiencing! If we can tell you without doubt that you'll be just fine with a regularly scheduled visit, we will do so. However, we will likely encourage you to come on in, so we can take a look, remove your stress, explain what's going on, and discuss any solutions (should you need a dental care treatment).
Damage!
Any damage is damage. If you crack your tooth, your tooth appears to have crumbled around a filling, your tooth is broken, your tooth has become dislodged, or you are dealing with any type of oral related damage (that is not life threatening; if you are dealing with serious blood loss or other severe injury, head to your local ER or call 911), call us. Let us examine your damaged oral tissue right away, rather than in several hours or days. Remember that waiting, when an issue is urgent, can lead to serious consequences. You need an emergency dental visit ASAP!
Get Your Emergency Dental Visit Scheduled
Don't wait and wait, when you think you may require our care immediately. Get in touch with us just as soon as you recognize you may be in need of an emergency dental visit, so we may see you very soon. To schedule an appointment or consultation with Dr. Hofkes, contact us today by calling 562-584-4082. We proudly welcome patients of all ages from Cerritos, CA and all surrounding communities.