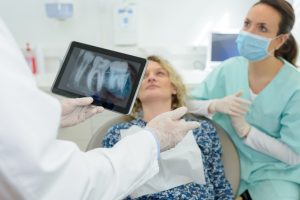 Almost every job gets harder when you can't see as well. That's true for dentistry too. Dentists are better able to perform all kinds of procedures when they have a complete picture of what's going on in your mouth. Using better imaging technology leads to better results for patients, which is why dentists are often looking for ways to innovate in this area. Superior imaging technology can lead to a much better experience with dental implants, as the placement and precision of these implants is vital to the overall patient experience.
How Dental Implants Are Placed
Dental implants are considered such a good prosthetic option because they replicate the root structure of a natural tooth. The roots of your tooth hold it in place and allow you to chew comfortably. Dental implants are titanium posts that are surgically placed in your jawbone. After healing, the implant will fuse to the bone and allow you to use it like a natural tooth. For that reason, it's important to have your dental implant placed properly. The right spacing and angle allows your implant to function better.
Better Imaging Leads to a More Comfortable Experience
Unlike other dental prosthetics, dental implants require surgery. Your dentist will have to place your implant in your jawbone. Better imaging allows your dentist to be more accurate, which can shorten your recovery time and lead to a shorter treatment timetable. It also lowers your risk for infection. Utilizing technology like 3D cone beam imaging gives your dentist a more complete picture of your mouth. Using this imaging technology is better for both the dentist and the patient.
Dental Implants Can Strengthen Your Jawbone
A well-placed dental implant is beneficial for overall patient health. Not only do dental implants provide the structure and function of tooth roots, but they also benefit your jawbone. Your jawbone needs the stimulation of biting to stay strong and fortified. Over time, without a tooth in place, your jawbone can deteriorate. Dental implants require an extended recovery time after surgery, but they will ultimately lead to better long-term oral health. If your current oral health and budget allow for it, you should consider dental implants.
Cerritos Dental Surgery Operations
In compliance with the American Dental Association's recommendations regarding COVID-19 (coronavirus) and to ensure the health of our patients and team, our office will be closed until Monday, March 30, 2020. If you had a previously-scheduled appointment during this time period, we will be in touch to reschedule. We will keep you updated as new information emerges and we decide our future course of action. Please check this site frequently for those updates. In the event of a dental emergency, please call (562) 584-4082. Thank you for your understanding.