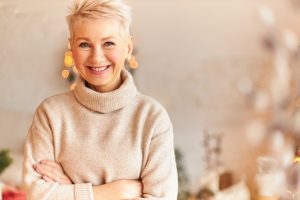 Usually, when you start coming up with things you'd really love to give yourself as a holiday gift, it's something like a pair of cozy slippers, an island vacation, etc. Something you may not have ever added to your list in the past (but that you just might want to include this year)? A dental bridge! Yep, we know. It's a bit unconventional but when you think about how important your smile is and you consider the fact that giving yourself the gift of a lovely grin and oral health is really something that's hard to beat, well … the idea can really start to sound like a good one. Consider our Cerritos, CA team's reasoning behind such a lovely, smile-related present!
You Need One
One of the reasons it may be very nice to give yourself the gift of a dental bridge this holiday season? Well: You need one. If you're missing one tooth, two teeth side by side, or three teeth in a row, then you're a wonderful candidate for a bridge. Since the idea of a holiday season without all of your teeth probably doesn't sound wonderful, considering this tooth replacement may be the gift to yourself that keeps on giving!
Getting Started Is Easy
Considering gifting yourself something that requires a lot of effort doesn't sound like much of a treasure. Fortunately, when the idea at hand is a dental bridge, which will complete your smile and make life easy again, the bonus detail is the fact that getting started (and following through) is exceptionally easy. Give our team a call very soon, schedule a consultation, and you will find that restoring your smile by replacing missing with us is stress free. We're here to make oral health improvement a sigh of relief!
Hint: Your Gift Comes With Options!
Combine your dreams! When you're initially absolutely sold on the idea of a dental bridge to replace your partial tooth loss but you were also feeling quite serious about relying on dental implants, remember that there's such a thing as an implant-retained bridge. Speak with our team about whether this may be an option for you! Remember: We're here to help you select the treatment (and holiday gift) that works for your needs and preferences!
Replace Missing Teeth This Holiday
Don't go through the holidays feeling upset about your tooth loss and wondering how to get started with completing your smile. Come in as soon as you can, instead, to learn about dental bridges and more! To schedule an appointment or consultation with Dr. Hofkes, contact us today by calling 562-584-4082. We proudly welcome patients of all ages from Cerritos, CA, and all surrounding communities.