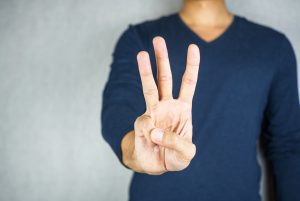 When you think about carving a path out for yourself that will eventually yield a complete smile with dental implants, you may feel as though it's something that's in the future. You may guess that there are lots of steps that you will need to take to get there. Unfortunately, when you regard the process in this way, you may find that you feel further and further away from the finish line each and every day. Instead, our Cerritos, CA team encourages you to begin taking some very simple and effective steps today that will help kick start your journey, so you gain momentum and end up with a complete smile just as soon as possible!
#1: Stop Home Researching
Our team strongly suggests you close down your web browser, if you have any pages open about dental implants, and that you step away from the computer! Shut down anything you're reading on your phone in terms of tooth replacement. Simply decide today that you're done researching implants on your own at home. Why do we suggest this, you wonder? Well, because the more you look up details on your own, the more you may combine some factual details with misinformation, which can either cause you to doubt implants or to simply get the wrong idea about them. Instead, you should learn about them from us as soon as you can!
#2: Call Our Team To Schedule A Consultation
Call us soon if you are ready to learn about dental implants. Remember, not only will you gather factual information from us, when you come in for a consultation but you will also gather details that apply to you (rather than information that may or may not have anything to do with your smile, such as the stuff you might read about online!). As patients become more familiar with individualized potential options, it makes furthering one's journey easy to do.
#3: Create A List Of Questions For Us
Have questions? The answer is probably a loud yes! If so, then we encourage you to write them down. Jot them onto notebook paper, onto your phone, etc. When you bring them with you to your consultation, it can help you quickly put worries to rest, to feel you're better understanding how implants work, and you can go home feeling satisfied about your new knowledge. Once you decide you're ready to get going with implant placement, just give our team a call!
Head Toward Implants Starting Right Now
Give our team a call when you realize you would like to learn more about dental implants, as you determine whether they make a smart choice for completing your smile. We look forward to seeing you soon! To schedule an appointment or consultation with Dr. Hofkes, contact us today by calling 562-584-4082. We proudly welcome patients of all ages from Cerritos, CA and all surrounding communities.